13 December 2018
Archived News
Book Auction News - a chance to catch up on the news around the book auctions.
6.12.18. A book given by WB Yeats to his "friend Maud Gonne" has sold at auction for a hammer price of €48,000, which gives a total price including the commission of €57,600. The copy of The Wanderings of Oisin had an estimated price of €10-15,000.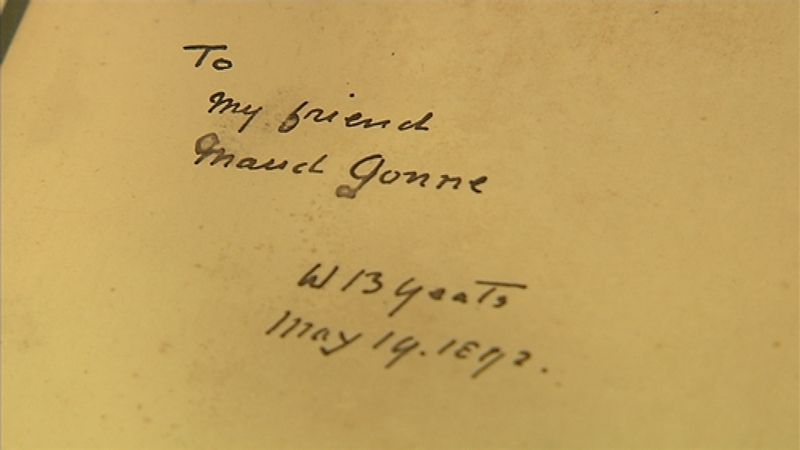 ... more Add a comment
26.11.18. Bloomsbury Auctions' sale of Western and Oriental Manuscripts and Miniatures on December 4 commences with the earliest item included in the auction. Lot 1 A Silver cornerpiece, formed to fit around one outer corner of a bookbinding, 30mm. square. The Evangelist John, with his attribute and pointing to a copy of his Gospel, with a single Latin word "Iohannis" in Insular capitals, on a silver cornerpiece from an Anglo-Saxon bookbinding [England, seventh to ninth century (most probably ninth century)]. Estimate £3,000-5,000. ... more Add a comment
6.11.18. Six volumes of an erotic French book from 1797 which was ordered to be destroyed by Napoleon Bonaparte himself and has never been published in English has been sold by Etwall auctioneers Hansons for £8,200. 'Justine', published in France during the French Revolution by a nobleman called Marquis de Sade, was extremely sexually explicit and the book was even banned in France for almost two centuries ... more Add a comment
24.10.18. A group of Ian Fleming's novels all in hardbacks with original vintage dust jackets went up for auction in the recent Cotswold Auction Company's book, medals, militaria and collectables sale. A first edition copy of Diamonds are Forever realised the highest price in the sale and after spirited bidding from the phone and the internet, sold for £2,200 ... more Add a comment
5.10.18. Lot 175 at Henrey Aldridge & son on October 20 is an extremely rare broadside poster advertising Third Class tariffs on the ship's return voyage from New York to Europe. It pictures a photograph of the ship, (actually pictured is the Olympic, the Titanic's sister ship, which looked practically identical and was often used for promotional material), an interior view of a Third Class cabin and the Third Class dining facility. Its scarcity can be explained in that after the Titanic sank on April 15th, 1912, White Star Line destroyed as many of these posters as they could. ... more Add a comment
25.09.18. A first edition copy of Adam Smith's 'The Wealth of Nations' has been unearthed during final preparations for the sale of the contents of a Staffordshire manor house. Derbyshire auction house Hansons expects the two volume work, properly titled Inquiry into the Nature and Causes of the Wealth of Nations, to bring £30,000-£50,000 when offered for sale on October 15 at its Etwall saleroom. ... more Add a comment
15.09.18. I'm out of the office until September 24 and with limited internet access, it will be maintance only until then. Add a comment
5.09.18. An auctioneer has unearthed a police book from 1833 detailing the story of a Belper man sentenced to time in jail for stealing a few pears. The story of Herbert Spencer has been found in a Derbyshire Night Watchman's Reports book which will come up for sale at Hansons Auctioneers on October 1, with a guide price of £200-£300 ... more Add a comment
24.08.18. Lot 310 at the Bearnes Hampton & Littlewood sale on September 12 caught my eye. Circus: Lord George Sanger Archive including original photographs, advertising posters, programmes, broadsides, ALs, original score for a pantomime (1883), and the catalogue for the deceased sale of Sanger's estate, by Tom Norman in 1905, etc, etc. * a unique archive, the nineteenth century photographs which are mounted and titled on the verso provide an important and evocative visual historical record. 'Lord' George Sanger (1825-1911) was an English showman and circus proprietor. In his early life he worked as a travelling peep showman. Later he successfully ran shows and circuses throughout much of the nineteenth century. Estimate £500 - £1000. ... more Add a comment
7.08.18. More than 30,000 comic books are being auctioned off in Surrey next month. "This is all from one collection. The gentleman collected from the late 60s to the mid- to late-90s. He recently passed away so his family has decided to let everything go by auction," said Jeremy Dodd of Able Auctions, which is holding the event.
"He doesn't have the massive golden age books that are very, very rare. He's mostly mid-70s and up," he added. "But what you really look for in comic books are key issues, and this guy had pretty much every key issue of comics from early-70s to mid-90s, and onward." ... more Add a comment
26.07.18. The W&H Peacock sale on August 3 will include 99 lots of Books, Maps & Ephemera, to be sold in their Robert Room. Lots will include John Baskett Bible, 1727, C.S. Lewis : Broadcast Talks, 1942 with ALS laid in, Sangorski & Sutcliffe Binding, specially commisioned, E. Hemingway : Farewell to Arms, 1929 1st Ed, H. Roye : Selection of photographic works, 1940s, J. Skelton : Oxonia Antiqua Restaurata & Antiquities of Oxfordshire, 1823, J. Blaeu : Cantium vernacule Kent, C.1650, and Mickey Mouse Weekly, No.1 February to No.47, December, 1936. ... more Add a comment
15.07.18. I'm out of the office until July 23 and with limited internet access, it will be maintance only until then. Add a comment
14.07.18. Stride & Son's Auction on Thursday July 26 will include Books, letters, drawings etc., signed by Boris Karloff, Jack Kerouac, Arthur Conan Doyle, Seamus Heaney, Robert Crumb, Charles Bukowski, Patricia Highsmith, Thomas Hardy, Wagner, Paul McCartney, Henry Moore, Keith Vaughan, Tracey Emin, David Hockney, H.G. Wells, Geoffrey Hill, Ralph Steadman, Elizabeth David, WG Grace, Francesco Clemente, Ford Madox Ford, Robert Gibbings, Jake & Dinos Chapman, Heath Robinson, Arnold Bennett.
Also included is a vast and diverse single-owner collection of ephemera, for sale entirely without reserve as both single items and quantity lots. A bewildering range of subject matter and material, from the 17th century to modern. Add a comment
3.07.18. A rare book by the Victorian woman renowned as the world's first computer programmer is to go under the hammer in the Cotswolds during the 175th anniversary of its publication. One of only seven known copies of 'Sketch of the Analytical Engine' will be offered for sale by auctioneers Moore Allen & Innocent on Friday, July 20 with an estimate of £3,000 to £5,000. ... more Add a comment
23.06.18. A rare and precious manuscript leaf from Charles Darwin's most famous book, On The Origin Of Species, is set to fetch up to £100,000 at an auction. What makes the fragment in Darwin's own hand so rare and valuable is that it is one of only 11 leaves of the working manuscript of On The Origin Of Species still in private hands. The leaf contains only 56 words, which means that, if it does sell for £100,000 at the auction at Sotheby's in London on Monday July 9, each word will be worth £1,785.71 ... more Add a comment
1.06.18. The original map of Winnie-the-Pooh's Hundred Acre Wood - "probably the most famous map in English literature" - is expected to sell for up to £150,000 at Sotheby's auction in London on 10 July. EH Shepard's original 1926 sketch, unseen for nearly half a century, introduced readers to the world of Christopher Robin and his woodland friends in the original book. ... more Add a comment
14.05.18. A collector will need deep pockets to become the owner of a very rare copy of the first book by Lakeland children's author and illustrator Beatrix Potter. The May 30 sale by Chiswick Auctions of London includes (LOT 155) an example of the famous author's first privately printed version of The Tale of Peter Rabbit. Just 250 copies were ordered of this first printing. This book is being sold with an example of the first commercially printed version of the same book by publishers Frederick Warne in 1902. Together the books are expected to sell for between £12,000 and £15,000 ... more Add a comment
3.05.18. A letter sent by David Bowie at around the time his landmark Space Oddity single was released is expected to sell for over £6,000 when it goes to auction. In the handwritten note, which dates to July 1969, Bowie invites a band to play at a club night he ran in The Three Tuns pub in Beckenham, south London. The letter will be sold at Omega Auctions in Merseyside on Wednesday, May 9 Add a comment
22.04.18. the menu of the first meal ever served aboard the Titanic has fetched £100,000 at auction. The lunch, including consommé mirrette, sweetbreads and spring lamb, was served to officers on the first day of sea trials on 2 April 1912. It belonged to Second Officer Charles Lightoller, the most senior crew member to survive, who gave it to his wife as he left Southampton on 10 April 1912. Auctioneer Alan Aldridge said it was "one of the rarest menus in existence". It was sold to a British collector at the auction at Henry Aldridge and Son in Devizes, Wiltshire on Saturday. ... more Add a comment
15.04.18. A highlight at Roseberys Islamic and Indian art sale on Monday 23 April is lot 43. A Qur'an, Qajar Iran, circa 1800, Arabic manuscript on paper, 287ff., plus four fly-leaves, each folio with 14ll. of neat black naskh, gold verse roundels, text panels outlined in gold and black, margins with gold outer rule, catchwords 'ashr, Khams, hizb, and juz marked in red in the margins, sura headings in red, opening bifolio with gold and polychrome illumination framing 6ll. of text in clouds reserved against a gold ground, margins with gold illumination, final folio with later added date. Estimate: £1,000 - £1,500. ... more Add a comment
4.04.18. A highlight of Dominic Winters Auction on Apil 11th is lot 33. Seller (John). Atlas Coelestis containing the systems and theoryes of the Planets the Constellations of the starrs and other phenominas of the heavens with nessesary tables relating thereto collected, circa 1690. Estimate: 4,000 GBP - 6,000 GBP
... more Add a comment
30.03.18. A 'secrets of sex' manual dating back to 1720 sold for £3100 - 30 times the original estimate of £80-£120 - at Hansons Auctioneers on March 27th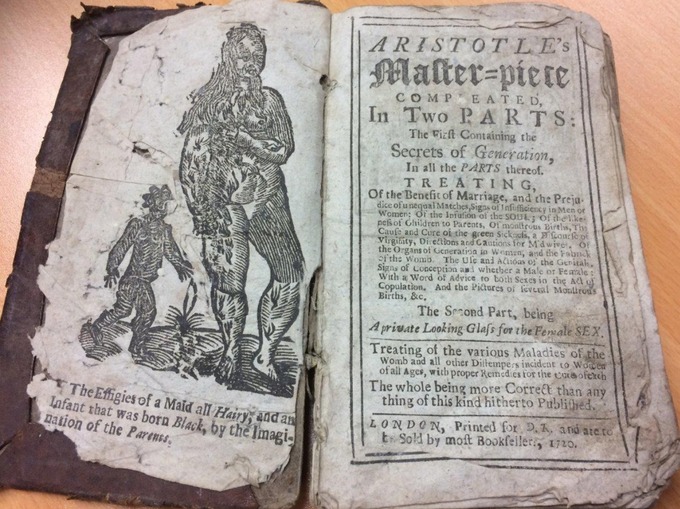 ... more Add a comment
23.03.18. The highlight of the map section at Chiswick Auction's sale on March 28th is Lot 494. Oliva (Placido e Caloiro) A rare and unusually extensive Portolan Chart of Europe [c.1640]. Estimate £40,000-60,000.
... more Add a comment
19.03.18. A Highlight of Forum Auctions sale on Mach 22nd is Lot 57: Milton (John) Paradise Lost, first edition, 7th title-page, printed by S. Simmons, 1669. Estimate: £3,000 - £4,000.
... more Add a comment
8.03.18. Rachel Littlewood previews Bearnes Hampton & Littlewood's Antiquarian Book Auction on March 14th, which includes the Rosemary E Coleridge Middleton Collection of Samuel Taylor Coleridge. The 56 lot collection includes furniture, works of art, silver, ceramics, manuscripts, books and paintings ... more Add a comment
1.03.18. The undoubted highlight of Dominic Winter's Photography: The First 150 Years on March the 9th is lot 202 - an excellent print of one of Julia Margaret Cameron's most iconic portraits - Sir John Frederick William Herschel. Estimate: £30,000 - £50,000.
... more Add a comment
10.02.18. On 28 February Lyon & Turnbull will be staging a unique and exciting sale of works by author and illustrator John Burningham. The sale includes original artwork of many of his most famous books including Borka: The Adventures of a Goose with No Feathers; Cannonball Simp and Mr Gumpy's Outing as well as a number of Burningham's eye-catching posters designed in his distinctive illustrative style for London Transport in the early 60s to promote coach and underground travel
... more Add a comment
31.01.18. Lot 86 at Bonhams Fine Books and Manuscripts sale on February 11 is a Rare 3-rotor German Enigma I Enciphering Machine, Modell 1, for Heer (Army) use, Berlin, 1943. Mid-war Enigma machine in working condition. Estimate: £49,000 - 64,000.
... more Add a comment
25.01.18. Out of my league unfortunately but Willem Blaeu's map of the British Isles is one I'd be very happy to hang on my wall. Lot 104 at Dominic Winter's Printed Books, Maps & Documents sale on January 31st is a good looking example.
... more Add a comment
2.01.18. Amongst the 96 lots of Travel and Atlases in Forums Auctions sale on January 25th, lot 12 caught my eye. Grant (James Augustus) A Walk across Africa or Domestic Scenes from my Nile Journey, first edition. Half-title, signed and inscribed by the author "To fat little Allison with the fondest love of her father - J. A.Grant 1st May 1873" in ink on half-title, folding map hand-coloured in outline in pocket at end (lightly browned), with 40pp. publisher's catalogue at end (not found in all copies), very occasional soiling, original pictorial green cloth, gilt, a little rubbed, small hole to upper joint, recased, new endpapers, [Czech p.66], 8vo, Edinburgh and London, 1864. Estimate: £2,000 - 3,000. Add a comment
1.01.18. Welcome to our Provisional 2018 Auction Diary. Not a lot of dates yet but they will be added as soon as they become available. Add a comment
The man who doesn't read good books has no advantage over the man who can't read them.
MARK TWAIN