Shelf:Life
Shelf:Life - Links to what's new in the world of old, rare, and collectable books, insights into book collecting, the news stories that matter, and occasional comments by TheBookGuide. Archived Stories.
31.08.16.
The truth about the Hemingway Heist
In my memoir of a life in the book trade, I didn't discuss the theft of letters on a fight between Ernest Hemingway and Morley Callaghan, officiated by F Scott Fitzgerald. But now I have changed my mind ... more Add a comment
---
30.08.16.
Emily Brontë may have had Asperger syndrome, says biographer
Claire Harman says several of the Wuthering Heights author's character traits - including a dislike of leaving home and bursts of frustration - could indicate autism ... more Add a comment
How to keep a Zibaldone, the 13th Century's answer to Tumblr
One day in Venice, sometime near the end of the 14th century, a busy merchant found himself with a few spare moments. Maybe it was a slow day at the docks, or he arrived home too early for dinner. Whatever the reason, he did what people of his era tended to do when they had some time - he took out his notebook and his set of pens, and he put together a page-sized patchwork of his afternoon
... more Add a comment
---
27.08.16.
The mysterious ancient origins of the book
The debate about ebooks v paper books is nothing new. Keith Houston explains how a very similar debate raged as the first books came to be in ancient Rome ... more Add a comment
---
26.08.16.
Belgians Go Book Hunting, A La 'Pokémon Go'
Inspired by the success of Pokémon Go, a Belgian primary school headmaster has developed an online game for people to search for books instead of cartoon monsters, attracting tens of thousands of players in weeks ... more Add a comment
Publisher hunts for forgotten detective novelist Clifton Robbins
In a quest that calls for the detective skills of fictional sleuths from time past, a publisher has launched a search for the surviving relatives of a crime novelist whose novels have been out of print for almost 80 years ... more Add a comment
---
25.08.16.
When Malcolm X went on holiday
Extraordinary trove of postcards which shows how the firebrand black leader was never off-duty comes up for auction and is set to fetch $40,000 ... more Add a comment
'I should have killed you'
Angry letter from Bonnie and Clyde to former accomplice is up for auction - and could fetch $40,000 ... more Add a comment
Why I can't throw out any of my books
There's a famous old saying that goes "A house without books is like a room without windows" which is very beautiful and profound - but it's not true. I have a house with lots of books, and I also have a room without windows because there are huge stacks of books everywhere, blocking them out. My living room is ridiculously book-stuffed: there's no space on the bookshelves, no room on the floor, no place to even sit down - I have to sit on a stack of chunky film biographies, and use a copy of Minced Meat: The Australian Way as a cushion ... more Add a comment
---
24.08.16.
Paris exhibition to celebrate life and work of Oscar Wilde
Manuscripts, photographs, paintings and personal items among the displays in honour of playwright who died in city ... more Add a comment
---
23.08.16.
Ancient Egyptian works to be published together in English for first time
Ancient Egyptian texts written on rock faces and papyri are being brought together for the general reader for the first time after a Cambridge academic translated the hieroglyphic writings into modern English ... more Add a comment
The Book Beautiful at Ditchling Museum
Book designs and typography by William Morris and his Art + Craft movement peers are to be celebrated in a new show at Ditchling Museum in East Sussex. The Book Beautiful: William Morris, Hilary Pepler and the Private Press Story show marks the centenary of the St Dominic's Press, founded in Ditchling in 1916, and examines the English private press movement in the late 19th and early 20th Century
... more Add a comment
The memory gap: how technology took over the mind
What happens when we outsource part of our brains to the internet? ... more Add a comment
---
22.08.16.
World's largest William Blake Gallery to open in San Francisco
John Windle Antiquarian Bookseller announces the grand opening of The William Blake Gallery, a new exhibition space in San Francisco dedicated to works created by the massively influential 19th century poet, artist, and engraver. The gallery is the largest of its kind devoted solely to the artist, as well as the largest collection in the world of pieces by Blake available for purchase ... more Add a comment
Exact replicas to be made of 'world's most mysterious book'
Written in an unrecognisable language, the 15th century Voynich Manuscript has stumped the world's best cryptographers and captured the imaginations of generations of scholars. Now, after a ten-year pursuit, a small publishing house in the North of Spain has secured the right to construct a painstaking facsimile ... more Add a comment
---
20.08.16.
Truman Capote's ashes have had quite the afterlife
Even after death, Truman Capote still somehow knows how to command attention. A portion of the author's ashes have had a strange afterlife, and now, in a somewhat macabre twist, are up for auction ... more Add a comment
Why it wasn't all plain sailing for Swallows and Amazons' author
In an article heralding the new film of Swallows and Amazons released yesterday, the Daily Telegraph pointed out that Arthur Ransome saw the children's novel as his last chance of popular success as an author - if it failed, the piece added, he feared it would leave him "languishing as a journalist on the Guardian" ... more Add a comment
---
19.08.16.
Anthony Davis Student Book Collecting Award announces 2016 winners
The third Anthony Davis Book Collecting Prize at the University of London has been awarded to Clara Tait, a part-time MSc Psychology student at Birkbeck, for her collection 'These were the hours: Nancy Cunard and the Hours Press 1928-1931'. A runner's up prize was awarded to Arendse Lund for a collection of Icelandic sagas in various languages ... more Add a comment
---
18.08.16.
Rare letter by Mary Wortley Montagu, pioneering travel writer, up for sale
Declaring that "I like travelling extremely & have no reason to complain of having had too little of it, having now gone through all the Turkish Dominions in Europe", the only surviving letter written by Lady Mary Wortley Montagu from Turkey has gone up for sale ... more Add a comment
Researchers uncover lost Mexican Codex
A 500-year-old Mexican text dating to just before Hernan Cortez arrived in Mexico with his band of murderous, thieving conquistadors has been discovered written over, underneath another old Mexican manuscript. The documents are in Europe, where researchers are studying the rediscovered text and images to decipher them ... more Add a comment
Denmark's futuristic "citizen space" named the world's best public library
The library, as we know it, is obsolete. Now that most books are accessible online, the building once dedicated to silence and study is increasingly turning into a lively public gathering place - when it's not disappearing altogether ... more Add a comment
The mysterious history of the ellipsis
The punctuation mark of the ellipsis is perhaps the most unusual mark in the English language, for punctuation marks are designed to convey meaning by indicating relationships between ideas, but the ellipsis does the exact opposite. It simply indicates that something has been omitted ... more Add a comment
---
16.08.16.
BookBenches line the streets of Birmingham
BookBenches are back, this time in Birmingham for The Big Read to encourage literacy development in the West Midlands. Altogether 175 painted benches, shaped as open books, are currently on display in Birmingham as part of the literacy arts project that has involved 140 schools, nurseries, colleges and community groups in the West Midlands to celebrate young people and their creativity. ... more Add a comment
Thomas Hardy altarpiece discovered in Windsor church
Thomas Hardy is best known for his grand tragedies, but the chance discovery with an iPhone torch of an altarpiece believed to have been designed by the writer for a Windsor church reads like the start of a crime caper Add a comment
These surreal ancient alchemy manuscripts are terrifyingly cool
Elixirs of immortality, transmutation, and the philosopher's stone. Today, the most famed pursuits of ancient alchemy are seen as mythological quests, and it's easy to forget that "black magic" once paved the way for modern science
... more Add a comment
---
15.08.16.
Early Earth aka Black Sabbath memorabilia up for auction
Ozzy Osbourne is famous for not only fronting the trailblazing heavy metal band Black Sabbath but also drink and drugs and wild antics such as biting the head off a bat on stage. But a collection of entertainment memorabilia unearthed in London and now on sale in a Sheffield auction on September 30 reflects the more homely side of the Prince of Darkness which was unveiled on reality TV show The Osbournes ... more Add a comment
---
13.08.16.
The merits of reading real books to your children
How do we think about a distinct role for paper, for "book-books" in children's lives? My own pediatric cause is literacy promotion for young children. I am the national medical director of the program Reach Out and Read, which follows a model of talking with the parents of babies, toddlers and preschoolers about the importance of reading aloud, and giving away a developmentally appropriate children's book at every checkup ... more Add a comment
---
12.08.16.
Roald Dahl exhibition 'explores author's imagination'
An interactive exhibition inspired by Roald Dahl is opening at the Wales Millennium Centre, promising the chance to delve into the author's imagination ... more Add a comment
Bright Young Booksellers
Fine Books & Collections' Bright Young Booksellers series continues with Tom Kiser, proprietor of Vivarium Books in Saint Paul, Minnesota ... more Add a comment
---
11.08.16.
Birdman of Alcatraz's personal bird atlas to go to auction
Robert Stroud, also known as the Birdman of Alcatraz, served 54 years in prison, 42 of them segregated from fellow inmates, before his death in 1963. His fame came not from shooting a bartender in 1909 to avenge a prostitute whom he pimped, nor from fatally stabbing a guard in 1916 while serving his manslaughter sentence at the Leavenworth, Kansas, penitentiary. (He was nearly hanged for the second homicide, but his mother petitioned President Woodrow Wilson, who commuted his sentence to life in prison.) Rather, Stroud is remembered for his unusual devotion to the birds he caught or bought and cared for while in prison ... more Add a comment
A look back at the forgotten textile mill labels from British India
The textile mill label is an essential visual reminder of trade in British India. The labels, also referred to as "tickets" and "shipper's tickets", were pasted on bales of cotton cloth produced at industrial centres in Britain, such as Manchester and Glasgow, and then shipped to Bombay, Calcutta and Amritsar. In all likelihood, the cloth was manufactured from cotton fibre imported from India
... more Add a comment
Anger as council disposes of irreplaceable books
Irreplaceable books donated by the American nation to an English village decimated in a wartime disaster have disappeared. The books contain messages of condolence from the Americans to the villagers of Freckleton, Lancashire, following the crash in 1944 ... more Add a comment
---
9.08.16.
Save The Culture book exchange: Nice idea or a scam?
It seems like a beautiful idea: why not set up a global exchange where readers can each share a book that means a lot to them. After all, as the quote by Edgar Watson Howe goes: "When I get hold of a book I particularly admire, I am so enthusiastic that I loan it to someone who never brings it back" ... more Add a comment
A traditional globe maker is making 3-d versions of historic Martian maps
In a workshop in Mannheim, Germany, Michael Plichta carefully and slowly aligns paper gores, or segments, by hand onto a globe of Mars. But the topography reflected on this replication of the Red Planet isn't one based on the sophisticated data and satellite imagery collected by NASA
... more Add a comment
Franz Kafka literary legal battle ends
Israel's supreme court has ruled that Franz Kafka's manuscripts are the property of the National Library of Israel, ending a lengthy legal battle ... more Add a comment
---
8.08.16.
Letter from Admiral Lord Nelson shows him going the wrong way
A letter by Admiral Lord Nelson highlighting his hopeless situation after he let the French fleet out of his sight in the build up to Trafalgar has emerged for the first time ... more Add a comment
---
6.08.16.
German museum rejoices over Durer found at flea market
A German art gallery says a print by Renaissance artist Albrecht Durer that was donated by a man who found it at a flea market is in very good condition
... more Add a comment
---
5.08.16.
Superman's Comic book debut sold for nearly one million dollars
Written by Jerry Siegel and illustrated by Joe Shuster, the 13-page story opens with Superman's crash-landing on Earth, and goes on to show him saving an innocent woman from the electric chair, stopping a man from beating his wife and going on a date with (and later rescuing) Lois Lane ... more Add a comment
---
4.08.16.
Rare Beatrix Potter book may fetch £1800 at Edinburgh auction
A privately printed first edition of Beatrix Potter's The Tailor of Gloucester is expected to fetch up to £1,800 when it goes up at auction. The rare book is just one of 500 copies that the iconic author herself had printed and dates back to 1902 ... more Add a comment
The real Winnie-the-Pooh and friends back on show after makeover
Winnie-the-Pooh and his friends Piglet, Eeyore, Kanga and Tigger look as good as new and are ready to go back on display after more than a year of much-needed repairs by a textile conservator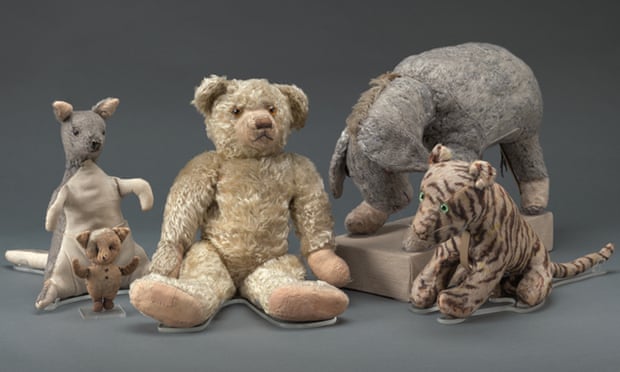 ... more Add a comment
From the sublime to the ridiculous: the joy of illuminated manuscripts
Illuminated manuscripts were not just for monks. A prayer book made for a French woman in the 1280s is among the bright exhibits in the stunning exhibition Colour, at the Fitzwilliam Museum in Cambridge. She must have been well-off, because the illuminations gleam with gold ... more Add a comment
---
1.08.16.
UoL Society of Bibliophiles
The University of London's Society of Bibliophiles is open to all. It aims to provide an opportunity for those who are interested book collecting - whether it's rare books, comics, or classic Penguins - to meet up with like-minded people. Launch Party Friday 28th October from 7-9pm for a glass of wine to celebrate ... more Add a comment
'Frozen' manuscripts from bankrupt Aristophil fund to return to market
Historical documents and manuscripts from the scandal-hit Aristophil investment scheme could soon return to the market as the slow process of restitution promises to quicken in the coming weeks ... more Add a comment
There is no frigate like a book to take us lands away nor any coursers like a page of prancing poetry.
EMILY DICKINSON