Shelf:Life
Shelf:Life - Links to what's new in the world of old, rare, and collectable books, insights into book collecting, the news stories that matter, and occasional comments by TheBookGuide. Archived Stories.
21.12.16.
The Christmas my in-laws threw out my treasured books
Newly arrived in England after eight years in the south-west of Ireland, we dumped our stuff in Kennington, south London, and went to my then husband's parents' house for Christmas. It was the late 80s, and our marriage was heading for the rocks ... more Add a comment
Learn about the antiquarian book trade
York Antiquarian Book Seminar provides an opportunity for leading specialists to share their expertise and experience with booksellers, librarians and collectors in a comprehensive survey of the out-of-print, antiquarian, rare and used book markets ... more Add a comment
Used and unusual
It's a shop that is, by design, at odds with online sales. "You can't browse," Fowler says of online shopping, "Nobody goes online and says, 'I'm just going to see what's there' the way you would in a shop." Discoverability is a big part of the used bookstore experience, but the challenge is getting customers to actually spend money on the books they find at the time, rather than later ordering online ... more Add a comment
Devoted Beatles fan selling 15,000 memorabilia items at auction
A devoted fan of The Beatles is putting his entire collection of memorabilia up for auction. Frenchman Jacques Volcouve has been immersed in Beatlemania for over 50 years but has decided to finally share his "pleasure and passion" ... more Add a comment
---
16.12.16.
Children happier with books than digital reading devices
Children enjoy being read to via a book more than a digital device, according to a new study by the University of Sussex. Since the birth of digital reading technology, arguments have raged over whether reading from a screen has any significant effects on the experience of reading and shared storytelling among both adults and children ... more Add a comment
UK's first major Moomin exhibition set to open in London
On one level it is a journey through magical caves, beaches and forests inhabited by lovable, strange creatures that resemble tiny hippos. On another it is an existential journey touching on some of the biggest subjects including gender, sexuality, tolerance and freedom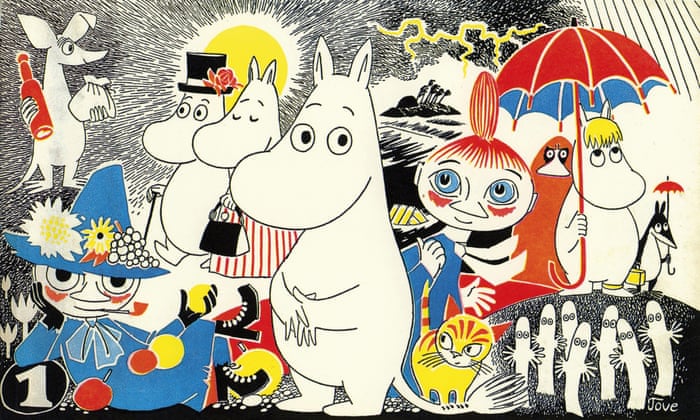 ... more Add a comment
Isaac Newton masterwork becomes most expensive science book sold
A first edition of Sir Isaac Newton's Principia Mathematica has become the most expensive printed scientific book ever sold at auction after a winning bid of $3.7m (£3m), the auction house Christie's has announced ... more Add a comment
Duchess donates 'extraordinary' book trove to college
The aunt of TV quizmaster Bamber Gascoigne has bequeathed an "extraordinary" collection of books to a Cambridge University college. Mary, Duchess of Roxburghe, left more than 7,000 books - including first editions by Wordsworth, Shelley and Byron, to Trinity College's library ... more Add a comment
---
14.12.16.
Dennis Gould, the printer in a digital age
He's a former footballer, prisoner, map-maker as well as being a bookseller, printer and one of Stroud's most familiar faces. In a digital age, Dennis Gould bucks the trend ... more Add a comment
Rare edition of JK Rowling's Beedle the Bard sells for £368,750
Jewelled book was Harry Potter author's thank you gift to publisher 'who thought an overlong novel about a boy wizard in glasses might just sell' ... more Add a comment
Gladstone's Library: The hotel where you can sleep with books
The easily accessible yet sufficiently remote location of residential Gladstone's Library, which was bequeathed by former Prime Minister William Gladstone and offers guests the opportunity to 'sleep with books', is such that the switching off process for a Londoner begins upon stepping off the train at Chester station. Once aboard the number four bus, mobile phone signal dwindles on the 40-minute journey across the Welsh border as a bustling town centre gives way to fields and eventually the pretty, quiet village of Hawarden ... more Add a comment
---
13.12.16.
Auction houses face off in website data scraping lawsuit
Christie's auction house has been accused in a lawsuit of using a computer program to scrape research, images and price information from a rival's website and then reselling that data as part of its own subscription database ... more Add a comment
Leonardo drawing estimated to appear at French auction next year
A newly-discovered drawing that has been attributed to Leonardo da Vinci will be offered by Paris auctioneers Tajan next year, estimated at 15m euros (£9.62m)
... more Add a comment
Every day, Matt Raptis holds Western civilization in his hands
He can page through Captain James Cook's illustrated account of his 18th century journeys to the South Pacific, follow Charles Darwin's evolutionary reasoning in an original 1859 copy of "The Origin of Species" ($350,000), trace Don Quixote's adventures in an edition printed in 1652 ($9,800) or decide what to cook for dinner from two volumes of "Mastering the Art of French Cooking" signed by Julia Child herself ($5,500.) ... more Add a comment
---
12.12.16.
Jane Austen's 'cup-and-ball' up for auction
A toy played with by Jane Austen more than 200 years ago is expected to fetch between £20,000 and £30,000 at auction. The Pride and Prejudice author played with the cup-and-ball game, also known as bilbocatch, at her home Chawton, Hampshire ... more Add a comment
Auction withdraws Patrick Pearse 1916 surrender letter
A letter of surrender written by Irish rebel Patrick Pearse has been withdrawn from auction in Dublin after bidding stalled at 770,000 euros (£650,000). The letter, written at the end of the 1916 Easter Rising, had a guide price of 1-1.5m euros ... more Add a comment
Overdue library book returned to school 120 years late
The Microscope and its Revelations, by Dr William B Carpenter, was borrowed by former pupil Professor Arthur Boycott, who attended Hereford Cathedral School between 1886 and 1894. It was discovered by his granddaughter Alice Gillett ... more Add a comment
Original Bob Dylan manuscript sells for $300K at Sotheby's
A Bob Dylan manuscript for 'Blowin' in the Wind' got quite the lift at a Sotheby's auction Saturday. The manuscript sold for $324,500, among other memorabilia from the Beatles, the Eagles and others ... more Add a comment
Irish Jesuits to dispose of rare book collection worth 2m euros
The Jesuit Order in Ireland is to dispose of its internationally important collection of rare books and mediaeval manuscripts valued at more than 2 million euros. Thousands of books from the collection have already been shipped to London and will go under the hammer in a major auction at Sotheby's next summer ... more Add a comment
---
7.12.16.
Oscar Wilde's prison cell key goes up for auction
The plain iron key to Oscar Wilde's cell door at Reading jail, a macabre souvenir of the period that broke his health and spirit, is to be sold at a Sotheby's auction ... more Add a comment
Children's Books satire pulled following racism accusations
Pseudonymous author Arthur C Gackley has instructed his publisher, Abrams Books to take Bad Little Children's Books off sale after floods of complaints were posted online. Covers featured in the book include an illustration of a First Nation family with the title The Anti-Vaccine Kid and the Gift of the Navajo Blanket Riddled With Smallpox. Under the title Happy Burkaday Timmy! a girl in a hijab, ticking bomb in hand, chases a white boy. Other parodies feature children killing babies, vomiting and being propositioned by predatory uncles ... more Add a comment
---
6.12.16.
First edition of Isaac Newton's Principia set to fetch $1m at auction
The extremely rare continental copy being sold by auction house Christie's in New York is one of a handful of texts thought to have been destined for Europe and has minor differences from those distributed in England by Newton and the book's editor, Edmond Halley ... more Add a comment
Bibliomania, the dark desire for books that infected Europe in the 1800s
"Any obsession can become real disease," says David Fernández, rare book librarian at Thomas Fisher Rare Book Library at the University of Toronto. "One of the aspects that can really be an issue is the financial aspect, even back then"
... more Add a comment
Christie's marks 250 years of auctions
On 5 December 1766, young Scotsman James Christie opened the doors of his first sale house, in Pall Mall, London. His first auction included a pair of sheets, two pillowcases, two chamber pots and four Indian glassworks ... more Add a comment
Rare books showcase Scotland's pioneering role in photography
Scotland's pioneering role in the development of photography is to be celebrated in a new display at the National Library of Scotland. It features one of the first ever books to be illustrated with photographs, William Henry Fox Talbot's Sun Pictures in Scotland, published in 1845 ... more Add a comment
---
1.12.16.
The name's Bottome... Phyliss Bottome!
A BBC radio programme suggests that Ian Fleming may have based his dashing hero on another fictional spy in a book by his late novelist friend and mentor, Phyllis Bottome ... more Add a comment
Gun that wounded French poet Rimbaud sold at auction
The gun that wounded French poet Arthur Rimbaud has been sold for £370,000 at an auction in the capital Paris. It was used by Rimbaud's lover, fellow French poet Paul Verlaine, during a heated argument between the pair in Brussels on 10 July 1873 ... more Add a comment
The unsolvable mysteries of the Voynich Manuscript
The Voynich Manuscript is a special kind of original. We know, thanks to carbon dating, that it was put together in the early fifteenth century. But no living person has ever, as far as we know, understood it. Nobody can decode the language the book is written in. It has no title and no author. A new facsimile, edited by Raymond Clemens and published by Yale University Press, draws attention to the way that we think about truth now: the book invites guesses, conspiracy theory, spiritualism, cryptography. The Voynich Manuscript has charisma, and charisma has lately held a monopoly on our attentions
... more Add a comment
Is this the first written mention of Jesus?
An ancient set of lead tablets showing the earliest portrait of Jesus Christ have proved to be around 2,000 years old, according to experts. The metal 'pages', held together like a ring binder, were found in Jordan in around 2008 by an Jordanian Bedouin and make reference to Christ and his disciples ... more Add a comment
Ancient Irish manuscript links Irish church to Egypt
In 2006 an Irish worker discovered an amazing find while digging in a bog with his backhoe at Fadden More. Sticking out of the earth was an ancient manuscript, miraculously intact after more than a thousand years. Archeologists were quickly notified and carefully retrieved the manuscript and began at once investigating it and putting the pieces together ... more Add a comment
You don't have to burn books to destroy a culture Just get people to stop reading them.
RAY BRADBURY