Shelf:Life
Shelf:Life - Links to what's new in the world of old, rare, and collectable books, insights into book collecting, the news stories that matter, and occasional comments by TheBookGuide. Archived Stories.
27.02.17.
Why I hate book clubs!
What's my gripe? Author Virginia Ironside says they turn women into pretentious bores ... more Add a comment
Harry Potter book sells for £43,750
A first edition of Harry Potter And The Philosopher's Stone has sold at auction for £43,750, after some "intense bidding". The sale exceeded expectations as the copy, described as being in "excellent condition", had an estimated sale price of £15,000-£20,000 ... more Add a comment
One of the best vintage comic book and art collections up for sale
One of the best parts of collecting vintage comics and art is that the hobby never fails to surprise you. There's still plenty of undiscovered country out there: rare comics you've somehow never heard of before, art that nobody realized had survived until now, collections that have to be seen to be believed. Today's case in point is the collection of Jon Berk, coming up for auction at ComicConnect starting on May 15th. ... more Add a comment
Rare Japanese woodblock prints on display in Poland
Polish-French art enthusiast Jerzy Leskowicz is obsessed with first-edition Japanese woodblock prints, and Katsushika Hokusai's iconic 19th-century "The Great Wave Off Kanagawa" is only one of many in his collection
... more Add a comment
---
23.02.17.
Bright Young Booksellers: Derek and Anna Walker
Fine Books & Collections series continues today with Derek Walker, proprietor with his wife Anna, of McNaughtan's Bookshop in Edinburgh, Scotland ... more Add a comment
Intricate landscapes and mountain ranges carved out of old books
The erosion of cultures - and of "culture" as a whole - is the theme that runs through the last 25 years of Guy Laramé's work. Amongst his many paintings and installations are incredible sculptures of landscapes and mountain ranges carved entirely out of old books
... more Add a comment
Sir Winston Churchill's funeral plans sell at auction
They map out the procession, St Paul's Cathedral ceremony, military flypast, and the coffin's transportation on the Thames and by train to Oxfordshire. Seller Janet Bunnett was given the plans of "Operation Hope Not" by her policeman father, who worked the day of the funeral, on 30 January 1965 ... more Add a comment
---
21.02.17.
Long lost diary of life in Georgian Lancashire
A chance purchase in a second hand shop sent journalist Alan Roby on a decades long odyssey piecing together the fascinating tale of life in Lancashire during the early 1800s ... more Add a comment
Microorganisms in the library
Sarah Craske describes herself as a "British artist, without category." Her work, at the intersection of art and science, revolves around the development of her own discipline: Biological Hermeneutics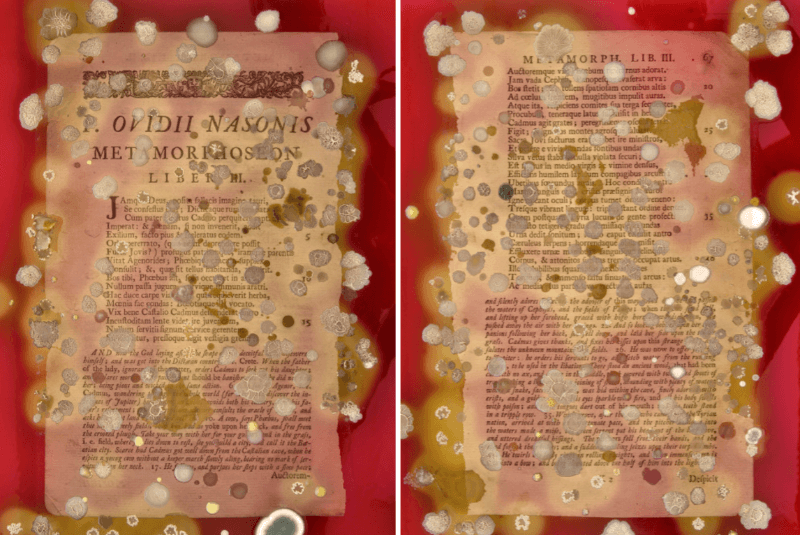 ... more Add a comment
The Ladybird phenomenon: the publishing craze that's still flying
The Books for Grown Ups series is worth nearly £30m - so it's no wonder that retro books for 'kids' have spread to other publishers. Now, serious subjects are getting the toilet-book treatment, too ... more Add a comment
---
20.02.17.
A year after bookshop owner's death, his brothers still sorting books
It has been over a year since Khaled Bafanna and his brothers began sorting out the huge collection of books at Haziq and Mohi Rare Book Suppliers. Over 100,000 rare books categorised so far comprise only about 40 % of the total collection ... more Add a comment
---
18.02.17.
Rare Books Library gets exterior makeover
A Toronto building that's home to some of the world's rarest and oldest books is undergoing a major renovation. The project at the University of Toronto's Thomas Fisher Rare Book Library will address a wintertime problem where condensation - a threat to fragile yet valuable books - forms inside the concrete walls ... more Add a comment
---
17.02.17.
Treasury hits back at 'scaremongering' on business rates
Last March, then chancellor George Osborne announced a reform raising the rateable value threshold from £6,000 to £12,000, meaning around 40% of indie bookshops would pay no business rates at all in the 2017-18 financial year. London will also see £1bn of support? from a transitional relief scheme ... more Add a comment
A final note on the Kafka trial that left an Israeli heiress 'destitute'
On the day, this past December, when the Supreme Court of Israel ruled, finally, that the manuscripts in Eva Hoffe's safe must be transferred without delay to the National Library in Jerusalem, Hoffe went to her hairdresser and asked him to shave her head ... more Add a comment
The Book Thieves' reveals the story of the Nazi assault on books
The pricey paintings and other cultural treasures that were plundered by Nazi Germany have made headlines and been fodder for Hollywood movies. But Hitler's assault on the written word, the theft and destruction of countless books and religious tracts - estimated well in excess of 100 million - was arguably far worse and has gone largely unreported ... more Add a comment
---
16.02.17.
Marcel Proust on film
Canadian university professor Jean-Pierre Sirois-Trahan has found what is believed to be the first, and possibly only, footage of French writer Marcel Proust. Discovered in the Canadian National Cinema Centre archives, the black and white film is of a wedding cortége in 1904 ... more Add a comment
Rare Kufic Quran manuscript found in Karbala, Iraq
Mushtaq Muzaffar, director of the Center for Research, said the copy is among the oldest Quran manuscripts in the world
... more Add a comment
Sir Edmund Hillary's notebook to be auctioned
A notebook belonging to Sir Edmund Hillary will be auctioned off after it was discovered in a box of old books donated by the late mountaineer's caretaker ... more Add a comment
---
15.02.17.
The most expensive library in the world?
Tapestries, leather armchairs, candelabras, sculpted woodwork and figures of the apostles: Book Capella, a newly built, gothic-inspired library in central St Petersburg, is complete with all the expected luxuries of an ancient athenaeum - and a price tag to match ... more Add a comment
---
13.02.17.
Thieves steal £2m of rare books by abseiling into warehouse
Antiquarian books worth more than £2m have been stolen by a gang who avoided a security system by abseiling into a west London warehouse. The three thieves made off with more than 160 publications after raiding the storage facility near Heathrow in what has been labelled a Mission: Impossible-style break-in ... more Add a comment
---
10.02.17.
Alan Turing postcard with 'hidden riddle' sells for £28,000
Taken at face value, it is nothing more than a postcard of a religious painting, sent by a holidaymaker to one of his closest friends. The signature on the back, however, suggests that all might not be what it seems ... more Add a comment
Doris Lessing's library: a life in 4,000 books
When Nick Holdstock was asked to catalogue the books left behind in Doris Lessing's home, he found annotations, drawings, dedications - and a few surprises ... more Add a comment
---
8.02.17.
Hollywood's Golden Age in pictures
The personal archive of rare studio photographs and Hollywood memorabilia that belonged to the Oscar-winning cinematographer behind All About Eve, Three Coins In The Fountain and The Seven Year Itch is to be auctioned ... more Add a comment
Getting lost inside the World's largest map shop
It's a damp day, Covent Garden's streets grey with drizzle, but the sun shines over the door of one Long Acre shop. The classy gold lettering lends an air of timelessness, but it's not the only thing that makes this regal building stand out from the surrounding designer boutiques; each of the large shop windows is underlined by the signature of Edward Stanford, the man who founded Stanfords bookshop
... more Add a comment
Has the 12th Dead Sea Scrolls cave been found?
They are the world's oldest biblical manuscripts, yet researchers believe that many Dead Sea Scrolls lie undiscovered. In the hunt to find the precious relics, researchers have discovered a new cave near the northwestern shore of the Dead Sea ... more Add a comment
True story of life on the streets
A library telling the 'unwritten, unheard stories of homeless people' has gone back on show in Manchester. The collection contains 40 handmade books and altered old classics that have been created by people currently living on the streets or without permanent shelter, as well as film and audio recordings ... more Add a comment
Curating symbols of a country in turmoil
Almost immediately after November's US presidential election, neon sticky notes began latticing the walls of the tunnels snaking through the Union Square subway station in Manhattan. The Subway Therapy wall, launched by the artist Matthew Chavez, sprawled through the station and spawned similar stunts in other cities, including Boston and San Francisco. Passersby paused to jot down their thoughts, giving voice to anxieties both national and personal ... more Add a comment
Paul Nash book designs go on show in London
Coinciding with the major exhibition of his work at the Tate that runs until March 5, a separate show of book designs and works on paper by the painter, war artist and designer are now on show at Charles Asprey at Vauxhall Pleasure Gardens ... more Add a comment
---
5.02.17.
Major rare book theft
Books of significant value were stolen from a West London warehouse on the night of 29th January while in transit for the California Book Fair. A full police investigation is underway! List of books here ... more Add a comment
---
3.02.17.
Prototype to help Mackintosh restoration library
A full-size prototype of a library bay is to be built as part of restoration work for Glasgow School of Art's (GSA) fire-damaged Mackintosh building. Edinburgh-based joinery firm Laurence McIntosh is to create the structure based on a design researched and developed by Page\Park architects ... more Add a comment
---
2.02.17.
Best things to do in Edinburgh for a book lover
Authors and poets have lived and worked here for centuries, leaving books, artefacts and stories behind them. Here are a few of the best places to visit if you want to learn more about Edinburgh's bookish past and present ... more Add a comment
UOL Society of Bibliophiles
It's been a fantastic first year for the University of London Society of Bibliophiles and we're looking forward to 2017.We have three more events coming up and we'd love to see you there ... more Add a comment
Alexander the Great last will discovered in Armenian manuscript
The fabled last will and testament of Alexander the Great may have finally been discovered more than 2,000 years after his death
... more Add a comment
---
1.02.17.
Pioneering photographs of China by John Thomson to be sold
He is one of the pioneering Scottish photographers, travellers and geographers. John Thomson, born in 1837 in Edinburgh, is also credited as being one of the founding father of documentary photography, especially for his work on the streets of London in the 1870s. Now some of his most adventurous work, in the Far East, is to be auctioned at a sale in New York in a sale which sheds more light on his ground breaking photographic work in China ... more Add a comment
Designs on dissent
A small silk buttonhole, a pamphlet on how to avoid arrest and a petition for women to sit their medical degree exams. These are just some of the objects on display at the Radical Voices exhibition at Senate House Library in the University of London charting how protest has been expressed over the past two centuries
... more Add a comment
You don't write because you want to say something; you write because you've got something to say.
F.SCOTT FITZGERALD