Shelf:Life
Shelf:Life - Links to what's new in the world of old, rare, and collectable books, insights into book collecting, the news stories that matter, and occasional comments by TheBookGuide. Archived Stories.
30.06.17.
Apollo 13 mission notes up for auction
The flight plan for the ill-fated Apollo 13 mission which had to be drastically altered following the 'Houston, we have a problem' emergency on board has been unearthed. The 352-page document bears the annotations made by all three crew members recording in detail the actions they had to take after an explosion ripped off part of their space ship ... more Add a comment
Original Snow White cels reel up for auction
A pair of original cels from Walt Disney's first animated feature-length film could fetch up to £23,000 when they are sold at auction. One image includes the moment the Wicked Queen hands Snow White the poisoned apple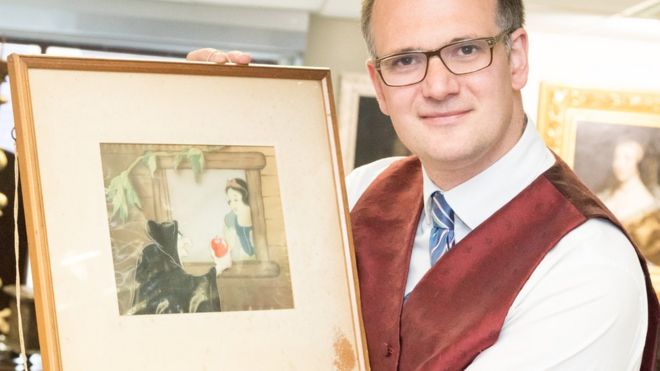 Add a comment
---
28.06.17.
Paddington Bear creator Michael Bond dies
Michael Bond, the creator of beloved children's character Paddington Bear, has died at the age of 91. He died at his home on Tuesday following a short illness, a statement from his publisher Harper Collins said ... more Add a comment
The Book Smugglers of Timbuktu by Charlie English - review
This exemplary work tells a remarkable story of the saving of precious manuscripts and explores the meanings of the 'African Eldorado', but exposes a myth ... more Add a comment
---
27.06.17.
Jane Austen auction features unique handwritten items
An auction by the Royal Society of Literature to celebrate Austen's bi-centenary features unique handwritten items where authors reveal what they really think of the much-loved novelist ... more Add a comment
School and hotel join forces in bid for world record
The Talbot Hotel is aiming for a place in the Guinness World Records by gathering as many food-related books in one place and is hoping to collect more than 3,000 old and new food-related books to be gifted towards the effort over the coming year ... more Add a comment
Even in the 1700s, book clubs were really about drinking and socializing
Ever since the advent of book clubs in 18th-century England, when books were scarce and expensive, these organizations have been about more than reading. Book clubs were organized to help members gain access to reading material and to provide a forum for discussion of books the club held. But they were also about gossip and drinking
... more Add a comment
---
22.06.17.
How letterpress printing came back from the dead
For designers used to wielding a mouse, a steamroller might seem excessive. Yet every summer in Seattle, teams from Starbucks, Facebook, Amazon, Oracle, and other local firms and artists vie to steamroll a winning poster. They spend dozens of hours carving large sheets of linoleum to be placed on asphalt, covered with ink, and pressed by a steamroller onto giant pieces of paper. It's hot and sticky and exhilarating ... more Add a comment
---
21.06.17.
1st edition James Bond book sells for £22,500 at auction
A first edition of the very first James Bond book, Casino Royale, has sold at auction for £22,500 in Carlisle. The book, written by Ian Fleming in 1953, paved the way for a further 11 James Bond novels, alongside the 007 Hollywood film franchise ... more Add a comment
Historic books stolen from Falkland Palace in Fife
Two historic books described as "irreplaceable" have been stolen from Falkland Palace in Fife. The tomes dating back to the middle of the 19th century were taken some time during the 24 hours from 7am on Wednesday, May 24 ... more Add a comment
---
16.06.17.
Misprint the legends: famous typos from James Joyce to JK Rowling
A proof of the first Harry Potter novel, which got the author's name wrong, is only the latest example of an ungainly tradition stretching back centuries ... more Add a comment
The history of movable books in one massive, 9,000-book collection
Ellen G.K. Rubin never saw a pop-up book as she was growing up, so when she bought two for her young sons in the 1980s, she was amazed. "I was blown away, probably much more than they were," she says. Those two books - one about dinosaurs, another about vehicles - set off an obsession. Today she has a collection of some 9,000 books, as well as countless postcards and advertisements, that pop up or move in some way - hence her nickname, "The Popuplady"
... more Add a comment
---
15.06.17.
The Little Prince watercolours fetch 500,000 euros at Paris auction
The auction included several other de Saint-Exupery works, including a set of 11 preparatory drawings for the iconic book. The Little Prince (1943) has sold 145 million copies worldwide and been translated into 270 languages ... more Add a comment
Birmingham City University's rare Russian book makes £39,000
A library book complete with stamps has been sold at auction for £39,000. The Antiquities of the Russian Empire was published in Moscow by order of Emperor Nicholas I between 1849 and 1853. The book, binding four volumes, had been owned by Birmingham City University which decided it was no longer relevant to research ... more Add a comment
Michael Palin donates 22 years' worth of notebooks to British Library
They are the pages where an unwilling messiah Brian, Mr Creosote, the Ministry of Silly Walks, a football team of philosophers and a dead parrot were all born. Now, more than 50 notebooks of original sketches and ideas for Monty Python have been donated to the British Library by Michael Palin. The public will now be able to freely peruse Palin's archive of writings from 1965 to 1987, including the books where he and Terry Jones would write the early sketches for Monty Python's Flying Circus ... more Add a comment
Painting from Scott expedition discovered in Antarctica
The mystery of a beautifully painted watercolour of a dead bird that was found in Antarctica's oldest building has been solved. The painting of a Tree Creeper was in a hut built by Norwegian explorers and later used by the Scott expedition. The image was found in a pile of papers covered in mould and penguin excrement.It is believed to be by British scientist Dr Edward Wilson, who died on the ill-fated Scott expedition to the South Pole in 1912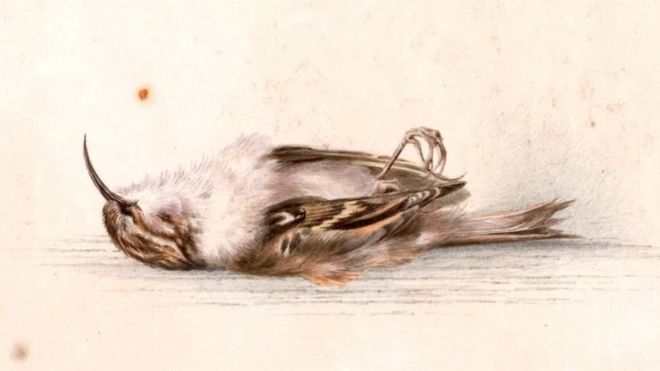 ... more Add a comment
Cambridge reveals oldest Sanskrit manuscript on film
The University of Cambridge has focused on what is believed to be the oldest illustrated Sanskrit manuscript highlighting stages in the life of Gautama Buddha as part of its India Unboxed series ... more Add a comment
---
14.06.17.
Rare books - what finally decides their worth
While we are often advised to save and place our money in a bank, we are not told that interest earned in the long run might be equal to or even less than keeping cash under your bed. Unlike money under the bed, money deposited in a bank is safe from theft, fire or flood - except that it may not be available when the bank or ATM goes "offline." Then, of course, there are computer glitches that temporarily make some people millionaires, and many others bankrupt with a zero balance ... more Add a comment
The 19th-century book of horrors that scared German kids into behaving
In the original edition of Heinrich Hoffman's 1845 German children's book, the most famous character - Struwwelpeter, or "Shockheaded Peter," whose name later became the book's title - appeared last. In six short, illustrated stories, Hoffman, a physician from Frankfurt, told grisly moral tales: of a boy who wasted away after refusing his soup, another who lay writhing in pain after a mistreated dog exacted revenge, and yet another who had his thumb cut off after he sucked on it one too many times. Struwwelpeter's sin was that he never cut his nails, bathed, or combed his hair; his punishment was distinct and cruel - he was unloved
... more Add a comment
---
12.06.17.
Einstein letters on God, McCarthy, Israel go up for auction
The five original letters, dated 1951 to 1954 and signed by Einstein, reveal a witty and sensitive side of the esteemed scientist. They were sent to quantum physicist David Bohm, a colleague who fled the United States for Brazil in 1951 after refusing to testify about his links to the Communist Party to the House Un-American Activities Committee ... more Add a comment
---
10.06.17.
Invicta secondhand bookshop is much missed
On entering a treasure trove of the unexpected, customers required considerable agility to squeeze through the piles of books next to the door, and negotiate the rickety staircase to the upstairs rooms ... more Add a comment
---
3.06.17.
Historic Irish library could make more than £1.8m at auction
One of the most important collections of historic books, including various Shakespeare folios, a first edition of Gulliver's Travels, signed copies of Wordsworth's poems and medieval manuscripts, is to go on sale next week. The books form part of a historic library amassed more than 100 years ago in Ireland, the sale of which could exceed £1.8m when auctioned by Sotheby's on 7 June ... more Add a comment
Magic war-time comic annual makes £5600 at auction
What is magic about this copy of a Beano annual? Collectors of comic books will know the 'Magic-Beano Book' was the name of the annual when it was published between 1942 to 1949 ... more Add a comment
---
2.06.17.
Unique Hans Christian Andersen picture book bid to £270,000
Dating from 1868-69, it was made for the child of one of his friends and, decorated with more than 250 clippings, collages and paper-cuts, was regarded as one of the finest examples of the 19 such works created by the great Danish author ... more Add a comment
---
1.06.17.
Independent Online Booksellers Association offers Scholarships
The Independent Online Booksellers Association would like to contribute to the continuing education of book collectors. Therefore, we are pleased to announce that we will again offer to a book collector a scholarship in the amount of $750 to be used at one of the several book seminars offered in the U.S. or the U.K. You are not required to be a bookseller or a member of any organization to apply ... more Add a comment
Extraordinary letter from Beatle George Harrison to be auctioned
An extraordinary letter written by Beatles star George Harrison begging a photographer to let him use her work in his book because he feared being 'poor and hungry' is expected to fetch £20,000 at auction. The lead guitarist penned the remarkable note just as the world-famous group were on the verge of international stardom in August 1963
... more Add a comment
'Stolen' book of world leaders' autographs turns up in Spain
Serbia is seeking help from Interpol to recover a dozen autographs from world leaders allegedly stolen from commemoration books following the death of Yugoslav leader Josip Broz Tito, officials said Tuesday, after the pages turned up for auction in Spain ... more Add a comment
Mozart, Beethoven, Verdi, Stravinsky - personal letters for sale
Often tempestuous, the lives of great composers have long been a source of fascination. An auction of manuscripts and letters from The Metropolitan Opera Guild Collection on 15 June offers new and extraordinary insights ... more Add a comment
Notorious Italian art theft ring foiled by Swedish academic
A Swedish academic who bought a rare antique Italian manuscript online from a university student in Bologna has helped police uncover a trove of stolen artwork and books ... more Add a comment
Notorious Italian art theft ring foiled by Swedish academic
A Swedish academic who bought a rare antique Italian manuscript online from a university student in Bologna has helped police uncover a trove of stolen artwork and books ... more Add a comment
Penis monsters and killer rabbits
As more and more medieval manuscripts are digitized online, the internet is slowly discovering what scholars have apparently known for years: Books in the Middle Ages were utterly littered with naughty drawings
... more Add a comment
Outside of a dog a book is a man's friend, inside of a dog it's too dark to read.
GROUCHO MARX