Shelf:Life
Shelf:Life - Links to what's new in the world of old, rare, and collectable books, insights into book collecting, the news stories that matter, and occasional comments by TheBookGuide. Archived Stories.
27.09.17.
Wigtown holiday bookshop could branch out to Asia
The Open Book in Wigtown is fully booked until 2020 and has attracted interest from a Chinese firm. It could see the company opening its own version of the successful Dumfries and Galloway business ... more Add a comment
---
26.09.17.
Foreign collectors attracted by Belgian rare book auctions
The sale of rare books in Belgium is attracting numerous foreign collectors. Now one in three end up in the hands of foreigners, compared to one in five in the 2000s and only one in ten twenty years ago. This is according to an estimate by the Brussels auction house, Arenberg Auctions ... more Add a comment
Rare collection of Viz comics has sold at auction for £3,000
The collection included Viz No 1, and also the very rare second, third and fourth issues, plus a run of 250 editions of the publication, annuals, one-off giveaways with commercial products and summer specials
... more Add a comment
Shapero Rare Books Sells 50% Stake In Russian Stock
Scholium Group PLC on Tuesday said its subsidiary Shapero Rare Books Ltd has sold a 50% interest in its entire stock of Russian books, maps, prints and works on paper to PY Ltd ... more Add a comment
---
25.09.17.
'Dazzling and worrying': my memories of Bruce Chatwin and In Patagonia
Forty years ago, Chatwin's debut book transformed travel writing. But just 12 years later, its author was dead. The Observer theatre critic, Chatwin's editor for that book, reflects on a brief, brilliant career ... more Add a comment
Builders discover trove of rare film posters
Two builders who discovered a trove of rare film posters being used as carpet underlay were amazed to see the collection sell for £72,000. Despite being trampled on for decades, the 120 prints were found in near-perfect condition beneath the carpet of a house they were renovating in Penarth, South Wales ... more Add a comment
Is Tintin a girl? Philosopher says his theory was 'fake news'
After media fuss, Vincent Cespede says playful suggestion that Hergés boy detective was a young girl was merely 'rethinking from another point of view'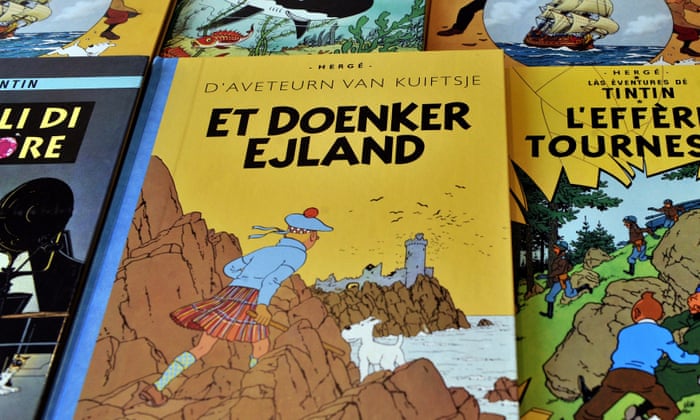 ... more Add a comment
---
22.09.17.
Tintin is a girl and 'probably asexual', French philosopher claims
Vincent Cespedes, who is also a painter, pianist and composer, is the author of essays on a number of subjects, and is causing a stir in the comic book world after announcing that the teenage reporter/detective is a girl - and Belgian creator Hergé and his friends were in on the joke ... more Add a comment
Tintin creator's last major work goes up for auction
The final major artwork by Tintin creator Hergé will be auctioned in Belgium next month and is expected to sell for a huge sum. The sketch formed the basis of a major mural in the Brussels metro station of Stockel and features many of the most beloved characters from the iconic series of comic strips featuring the intrepid Belgian journalist
... more Add a comment
---
21.09.17.
Original manuscript of the Book of Mormon is sold
The Church of Jesus Christ of Latter-day Saints has bought the printer's manuscript of the Book of Mormon for a record $35million. Acquired from the Community of Christ, the sale was announced Wednesday in a joint statement from the two organizations. Donors provided the funding for the purchase, which is highest ever paid for a manuscrip ... more Add a comment
---
20.09.17.
Unsigned Harry Potter book fetches four times initial estimate at auction
Heritage Auctions' offering of rare books, hosted in Dallas, set a world record when it sold 1 of 500 original, first-edition copies of J.K. Rawiling's "Harry Potter and the Philosopher's Stone" for $81,250, more than the quadrupled price of its pre-auction estimate ... more Add a comment
Tolkien and Leeds - The Hobbit author and his time in Yorkshire
It's 80 years this week since The Hobbit was published. Its author, JRR Tolkien, lived in Leeds for a spell and his time here influenced his work, as Chris Bond discovered ... more Add a comment
---
18.09.17.
Goodbye Christopher Robin and the problem with author biopics
From Johnny Depp as JM Barrie to Renée Zellweger as Beatrix Potter, these movies are just barrel-scraping exercises dressed up in tweed ... more Add a comment
Mystery of £20,000 Eleanor Rigby score pulled from auction
It was a sentimental gift, bought at a charity auction with the blessing of The Beatles and legendary producer Sir George Martin. But now a highly sought after piece of Beatles memorabilia--an original Eleanor Rigby score penned by Sir George - has emerged as the subject of an extraordinary dispute involving relatives of the man he gifted it to
... more Add a comment
Charles Darwin: Victorian Mythmaker by AN Wilson - review
"Darwin was wrong," begins AN Wilson in this entertaining and maddening book. Thus having tossed a dead pigeon upon the picnic rug, he gleefully sets about ruining everybody's lunch. The originator of "the single greatest idea anybody ever had" was, we are told, an intellectual thief, a morose hypochondriac, objectionably flatulent, obnoxiously ambitious and - worst of all - mistaken
... more Add a comment
---
16.09.17.
Anatomy academic donates 13th century manuscript to University
A Senior Research Fellow in the Centre for Applied Anatomy has donated fifteen fragments of a 13th century manuscript to Bristol University Library's Special Collections ... more Add a comment
Small auction houses move in on Christie's old turf
Nature abhors a vacuum. When Christie's announced the closure of its South Kensington saleroom in March this year, it was inevitable that rival and aspirant auction houses would move in. 'I think every auctioneer in England thinks that they are taking over South Ken's business,' Dreweatts' Mark Law comments wryly: 'There is a certain amount of over-confidence around.' While it is as yet unclear who will be the victor in claiming the lion's share of the spoils, Chiswick Auctions has so far proved fleetest of foot ... more Add a comment
Terry Pratchett exhibition offers peek into writer's own world
Reconstruction of room where Discworld novels were written is centrepiece of show that proves as eclectic as author himself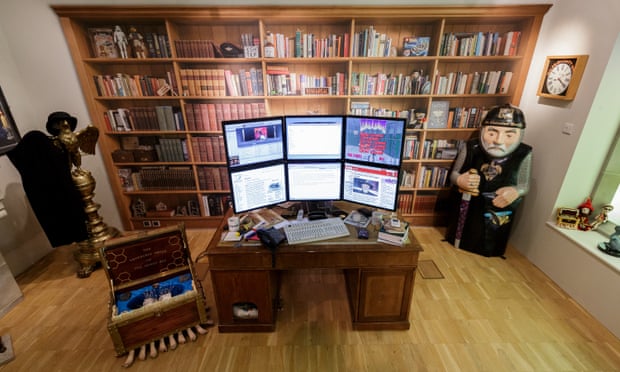 ... more Add a comment
---
14.09.17.
JP Donleavy obituary
JP Donleavy, who has died at the age of 91, was best known as the author of The Ginger Man, the critically acclaimed comic masterpiece. It is estimated that it sold over 50 million copies in more than 20 languages, and it has never been out of print. Banned in Ireland for 20 years, it was nevertheless hugely popular among Irish readers ... more Add a comment
Beautiful Paper sculptures adorn windows of Porto bookshop
Vera van Wolferen has made a name for herself in the paper art community. Her latest series, Plant Life, features two new paper sculptures made especially for the windows of Livraria Lello, one of the world's most beautiful and oldest bookshops, in Porto, Portugal. A wonderful art nouveau building, it's where J.K. Rowling was inspired to write Harry Potter, and where tourists queue up daily for their chance to visit
... more Add a comment
Much ado about nothing
Nowt, nada, zilch: there is nothing new about nothingness. But the moment that the absence of stuff became zero, a number in its own right, is regarded as one of the greatest breakthroughs in the history of mathematics. Now scientists have traced the origins of this conceptual leap to an ancient Indian text, known as the Bakhshali manuscript - a text which has been housed in the UK since 1902 ... more Add a comment
---
13.09.17.
Roald Dahl: Author's legacy 'wiped out' by Wales, expert says
Wales has failed to capitalise on being the birth place of world-famous children's author Roald Dahl, a leading Welsh writer has said. More than 35,000 people visited Cardiff during the 2016 City of the Unexpected festival that celebrated Dahl's work On the anniversary of Dahl's birth, the former Literature Wales chief executive said the writer's link to Wales had been "wiped out" ... more Add a comment
Charlie and the Chocolate Factory hero 'was originally black'
Roald Dahl originally wanted the eponymous hero of his much-loved children's book Charlie and the Chocolate Factory to be black, his widow has said. In an interview with BBC Radio 4's Today programme for Roald Dahl day on Wednesday, Liccy Dahl said: "His first Charlie that he wrote about was a little black boy" ... more Add a comment
Rare Robert Burns manuscripts to go on display in Glasgow
A rarely seen collection of Robert Burns manuscripts, including signed and handwritten documents, is to go on display in Glasgow. The collection has been put together by the Mitchell Library as part of Glasgow's 2017 Doors Open Days ... more Add a comment
Winnie-the-Pooh author longed to 'escape' his bear
It's Too Late Now, being republished after 70 years, reveals a writer frustrated at the eclipse of his work for adults by runaway success of children's books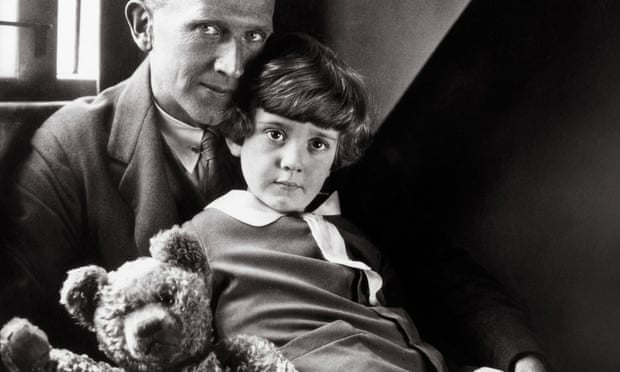 ... more Add a comment
---
11.09.17.
How guest Hans Christian Andersen destroyed his friendship with Dickens
It was not, to say the least, a successful visit. The burgeoning friendship between a pair of literary stars, Charles Dickens and Hans Christian Andersen, had looked set to last. But it could not survive an overlong stay by the Danish author at the British novelist's family home in Kent. Just how bad things became, on one side at least, has been revealed by a surprisingly frank letter sold at auction on Saturday ... more Add a comment
'Stolen' Beatles Eleanor Rigby score removed from auction
An original score for The Beatles' song Eleanor Rigby has been removed from an auction amid claims it was stolen. The handwritten score, which is signed by Paul McCartney, was due to be sold later with a guide price of £20,000 ... more Add a comment
the 17th-century Dutch version of Bookstagram
Jan Davidszoon de Heem (1606-1684), one of the greatest still-life painters of the Dutch Golden Age, brought particular brilliance to book still-lifes. He became most famous for his extravagant, late-seventeenth century paintings of picture-perfect flowers and sumptuous, fruit-laden tables. But in his twenties he produced some of the most beautiful vanitas still-lifes ever - featuring books
... more Add a comment
---
9.09.17.
'Plagiarists never do it once'
The poet Ira Lightman stared at his laptop screen in disbelief. Could it be true? He was sitting on the sofa in his terrace house in Rowlands Gill, five miles south-west of Newcastle, a narrow man with a curly mess of dark red hair. He'd just made a routine visit to the Facebook group Plagiarism Alerts. There, a woman named Kathy Figueroa had posted something extraordinary: "It appears that one of Canada's former poet laureates has plagiarised a poem by Maya Angelou" ... more Add a comment
Mysterious Voynich manuscript is actually a health manual
A British expert claims to have finally solved the mystery. Nicholas Gibbs, a leading authority on medieval medical manuscripts, is convinced that it's a health manual for wealthy Elizabethan women. He has spent the last three years poring over the document, which is named after Wilfrid Voynich. The London book dealer unveiled the manuscript to a gullible public 105 years ago, claiming it was the work of 13th-century philosopher Roger Bacon ... more Add a comment
Sir Quentin Blake illustrates Roald Dahl's final book, 26 years on
Billy and the Minpins was originally published as The Minpins in 1991, shortly after Dahl's death, with illustrations by Patrick Benson ... more Add a comment
How do you recreate a masterpiece like the Mackintosh Library?
The Mackintosh library at Glasgow School of Art, one of the world's finest examples of art nouveau design, was almost entirely destroyed by fire in May 2014 but efforts began almost immediately to bring it back to life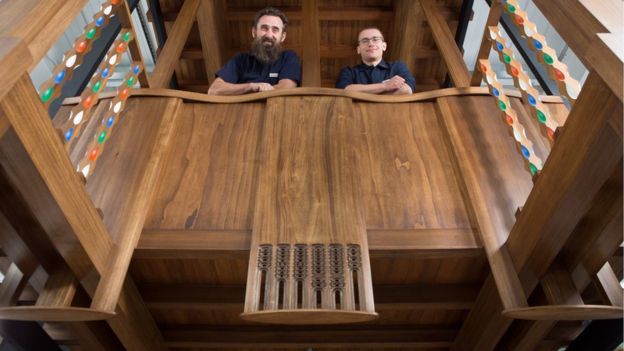 ... more Add a comment
---
7.09.17.
Collecting the world
James Stevens Curl on The Life and Curiosity of Hans Sloane, by James Delbourgo - a tome that emphasises the physician/naturalist's role in transforming cabinets of curiosities into major institutions of the Enlightenment ... more Add a comment
Robert Louis Stevenson wanted his reads to be racier
A new biography reveals the renowned author felt the need to tone down his work so as not to offend sensitive, middle-class readers. In an 1883 letter to his friend William Ernest Henley, an influential poet, critic and editor, he describes himself holding back on one "risque" female character in order to "please this rotten public" ... more Add a comment
Researchers create odor wheel that breaks down the smell of old books
The researchers realized that visitors at St. Paul's Cathedral Dean and Chapter Library in London frequently comment on the aroma of the space, saying they feel like they can smell history. Thanks to our limbic system, odors can make us pretty emotional, especially when they evoke memories. Scents affect how we experience different cultures and places, and help us gain more insight into and engage more deeply with the past ... more Add a comment
Suppressed story of Richard Burton's rival explorer surfaces
A secret addendum to John Hanning Speke's account of his discovery of the source of the Nile, which details his long-running feud with fellow explorer Richard Burton and which was considered too provocative for publication, has been acquired by the National Library of Scotland ... more Add a comment
---
5.09.17.
Death of a book salesman
A thought provoking article spotted by Peter Hadley: Are independent booksellers locked into some absurd and inexorable death spiral, talking to booksellers should disabuse you of such apocalypticism
... more Add a comment
---
3.09.17.
Amazon's AbeBooks site still down
In one message on Twitter this weekend, AbeBooks described the problem as a hardware issue and said it did not have an estimated time for a fix, but noted that buyer and seller data remained secure. As of early Sunday morning, the company said it was still working on the problem ... more Add a comment
---
1.09.17.
First editions and lasting treasures
Thinking of investing in rare books? Do it for the love of books, not money, say the experts ... more Add a comment
570 Pages of Leonardo da Vinci's Manuscripts Online
A collaboration between the British Library and Microsoft, titled Turning the Pages 2.0, made 570 pages of Leonardo da Vinci's' Codex Arundel available for free online. Now anyone can navigate the writings of one of the most inventive minds of the Renaissance. In the hundreds of digitized pages are ideas for airplanes, helicopters, parachutes, submarines and automobiles, centuries before they were developed and brought to the world ... more Add a comment
Forgotten treasures turn up at the Thomas Fisher Rare Book Library
Just in time for a new crop of students, the University of Toronto's Thomas Fisher Rare Book Library is completing an inventory of its books, scrolls and manuscripts - and encountering some forgotten treasures in the process
... more Add a comment
Many a book is like a key to unknown chambers within the castle of one's own self.
FRANZ KAFKA