Shelf:Life
Shelf:Life - Links to what's new in the world of old, rare, and collectable books, insights into book collecting, the news stories that matter, and occasional comments by TheBookGuide. Archived Stories.
29.12.17.
Dazzling finale to the science & technology auction year
The technology and science history auction year drew to a close last week with major auctions in London and New York by Christies and Sotheby's. Both auctions contained some important and spectacular specimens of mankind's most important discoveries ... more Add a comment
---
27.12.17.
Read Charles Dickens books aloud to your children as the author intended
Ask a child to name their favourite author, and Charles Dickens is unlikely to top the list. But Simon Callow, the actor and Dickens expert, believes that is because they are reading Dickens' words, but not hearing them ... more Add a comment
Christmas annuals in the attic - what are yours worth?
The comic book annual was often the biggest present you'd find in your stocking, only just fitting inside, although providing a sturdy spine for the other Christmas goodies. But how relevant are these annuals to the children of today - and how much might the Ruperts and Beanos of yesteryear be worth now?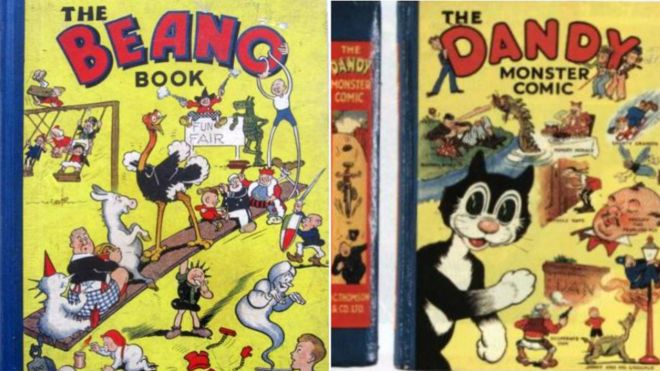 ... more Add a comment
Rare books stolen in Norwich theft
Police are appealing for help in locating some rare books which were stolen during a theft which occurred in Norwich around on Tuesday 5th December. It happened around 4.30pm when a delivery driver stopped at an address in Aylesbury Close in the city ... more Add a comment
Rare 19th century playing cards
Rare sets of geographical, astronomical and scientific themed playing cards featured in two recent sales. Those seen in a recent sale at Chorleys in Gloucestershire came from the estate of the late Alan and Joan Tucker, booksellers of Stroud, as did some 20,000 postcards and most of the books offered in the auction ... more Add a comment
---
20.12.17.
Bodleian reveals Tolkien's 'Father Christmas' letters
The Bodleian Libraries in Oxford are unveiling a series of previously unseen letters that J R R Tolkien wrote to his children "from Father Christmas" every winter for 23 years. The "wondrously imaginative" handwritten and illustrated letters will be displayed at a major Tolkien exhibition at the libraries opening in June next year ... more Add a comment
Rare HG Wells novels fetch more than £20k at Black Country auction
The 19 first edition novels by the science fiction writer totalled £20,240 - with the star of the sale a 1908 first edition of Wells' 'The War in the Air' selling for £7,500. The books were sold at Cuttlestones' specialist collectors' sale at Wolverhampton Auction Rooms, with a number of individual tomes selling for several thousands of pounds
... more Add a comment
---
18.12.17.
A colorful history of judging books by their covers
We are cautioned to avoid judging a book by its cover, yet that is precisely what publishers hope we will do. Dust jacket illustration, which came into its own in the 1920s, has long deserved recognition as a serious art form. If any doubt remains, Martin Salisbury's splendid survey, "The Illustrated Dust Jacket, 1920-1970 ," should dispel it ... more Add a comment
John Lennon's drawing of fat budgie has fetches £22,000 at auction
The late Beatle's very simple doodle of the overweight bird on a perch was actually designed for his novel 'A Spaniard in the Works' - a book containing nonsensical stories and drawings by him. But after it was published Oxfam asked permission to use his primitive bird sketch for its charity Christmas cards of the same year
... more Add a comment
Egypt reopens an ancient library in Sinai
An ancient library in Egypt has been reopened after three years of restoration on the building, which holds some of the most ancient manuscripts in the world. St. Catherine Monastery in South Sinai is the second largest library in the world and holds a hand-written copy of the New Testament ... more Add a comment
France declares Marquis de Sade's 120 Days of Sodom 'national treasure'
The Marquis de Sade called it "the most impure tale that has ever been told since our world began". But France on Monday declared the manuscript of The 120 Days of Sodom a "national treasure" hours before the subversive and pornographic work was due to be sold at auction in Paris ... more Add a comment
---
15.12.17.
Richard Adams' books collection sold at auction
Hundreds of books, once owned by Watership Down author Richard Adams, have been sold for more than £250,000. Among them were first editions of work by Jane Austen, Charles Dickens and George Eliot, a 1638 Bible and a Shakespeare Second Folio ... more Add a comment
---
12.12.17.
Charles Dickens letter sold by Sotheby's auction
A letter written by Charles Dickens about the aftermath of a Kent train crash has been auctioned off. The note, which sold for £5,250 at Sotheby's, details the personal impact the Staplehurst railway disaster had on the writer ... more Add a comment
Charles Dickens survived a train disaster that killed 10 and wounded 40
How Charles Dickens gave a powerful 'story teller' account of post-traumatic stress he suffered from seeing horror train disaster in a newly-discovered letter to his opera singer friend in Paris
... more Add a comment
Marquis de Sade erotic novel, or some quantum theory? You choose
One of the world's largest collections of historic letters, musical scores, notes and manuscripts -- including the Marquis de Sade's Bastille-written "120 Days of Sodom" -- will be auctioned in Paris later this month ... more Add a comment
Books as art decorate Penn College library, gallery
Visually stunning reinventions of the printed page will fill the Madigan Library at Pennsylvania College of Technology in two exhibitions in January and February ... more Add a comment
---
11.12.17.
Local press photos found in bomb house sell for four-figure sum
An archive of lost newspaper photos discovered by soldiers during Northern Ireland's troubles have sold at auction for more than £1,000. The 68 plate glass negatives from the 1930s, salvaged from an empty house wrecked by a bomb in Derry, were believed to be part of the archive of the Derry Standard, a weekly newspaper that closed in 1966 ... more Add a comment
Hirohito's WW2 memoir bought by Japanese accused holocaust denier
A memoir by former Japanese Emperor Hirohito about World War Two has been bought by a Japanese surgeon accused of denying the Holocaust and the Nanjing massacre ... more Add a comment
Rare Snow White and the Seven Dwarfs sketches go to auction
Sketches straight from the scrapbook of Snow White and the Seven Dwarfs inker Ingeborg Willy could sell for up to $10,000 at a New York City auction ... more Add a comment
How medieval manuscript makers experimented with graphic design
Designing English: Graphics on the Medieval Page at the University of Oxford's Bodleian Libraries considers how early English manuscripts approached graphic design
... more Add a comment
Why experts don't believe this is a rare first map of America
The map seemed to be an unbelievable find, an unknown fifth original of the rarest of documents, a vision of the world, circa 1507, by the famed German cartographer Martin Waldseemüller. It features 12 so-called globe gores - like a world map drawn on an orange peel that has been sectioned and squashed flat ... more Add a comment
---
9.12.17.
Should I keep working for a raging bigot?
I am a graduate student in a program designed to prepare you for a career working with rare books and manuscripts. I have a job as an assistant to an antiquarian bookseller. It is just the two of us, and he pays me very well, allows me to work the hours I want, gives me a good deal of responsibility and is willing to give me in-depth training. He is, however, racist, homophobic, transphobic, bigoted and sexist ... more Add a comment
---
6.12.17.
Tiny Harry Potter manuscript to sell for £120,000 at auction
A tiny Harry Potter manuscript written and illustrated by J.K. Rowling is to be put up for auction at an estimated £120,000. The book, which measures 1.6 inches by 2.4 inches, is to be auctioned by Bloomsbury of London this month. Just 31 pages long, the unique manuscript was created by the author for charity in 2004
... more Add a comment
---
5.12.17.
Winnie-the-Pooh heads to the V&A
Winnie-the-Pooh had many exciting encounters with woozles, balloons, and irritable bees - but the one adventure his creators would never have dared suggest for the bear of very little brain is that, heading towards his 90th birthday, he would star in a large exhibition at the V&A Museum in London ... more Add a comment
---
4.12.17.
Émile Zola, the photographer: personal collection goes under the hammer
Thousands of photographs and equipment belonging to writer's grandson expected to fetch up to £53,000 at auction ... more Add a comment
Ancient manuscript of Jesus's secret teachings is unearthed
A heretical manuscript which reveals Jesus's 'secret teachings' to his brother James has been unearthed by American researchers
... more Add a comment
Willy Wonka to Wind in the Willows: how children's books reveal inequality
As kids, reading offers an early insight into the forces of class and poverty that can shape our adult lives. Caroline Lucas, Danny Dorling, Nikesh Shukla, Laurie Penny and Juno Dawson share the children's books that influenced them ... more Add a comment
---
1.12.17.
Say no more
In the 1980s, two of the greatest book collections in history were auctioned at astronomical values. These were the Estelle Doheny collection between the years 1987-89 for $37.4 million and the Bradley Martin Collection in 1989-90 for $35.7 million. These were impressive figures with rare books like the Gutenberg Bible, the Shakespeare Folio and Audubon's classic The Birds of America going under the hammer. Yet, it was a third auction that of the relatively unknown Garden Ltd in 1989 for $16.2 million, less than half the figures of the earlier auctions, that made the headlines ... more Add a comment
A super-rare Alan Moore comic is up for auction
Perhaps the rarest Alan Moore comic of them all has just hit auction, and it's not an issue of Miracleman. Instead, it's Outbreaks of Violets - Random Acts of Kindness, a story penned by Moore as part of a special commission for the 1995 MTV Europe Video Music Awards ... more Add a comment
Arthur der Weduwen wins the James D. Forbes Collecting Prize 2017
My book collection attempts to offer a representative sample of the cheap and ephemeral "daily literature" of the Dutch Golden Age (c. 1588-1713). This includes official print (ordinances, edicts, proclamations), pamphlets, newspapers, devotional literature, and any other cheap literature in small formats (popular histories, poetry, pocketbook classics or dictionaries) ... more Add a comment
Beachy Head: Lighthouse building images sold at auction
A collection of images showing the Beachy Head lighthouse during its construction has been sold at auction. The 71 slides of the East Sussex lighthouse show workers scaling rickety ladders down the cliffs, as well as taking a cable car to the site. It is thought the images were taken by an engineer working on the construction between 1900 and 1902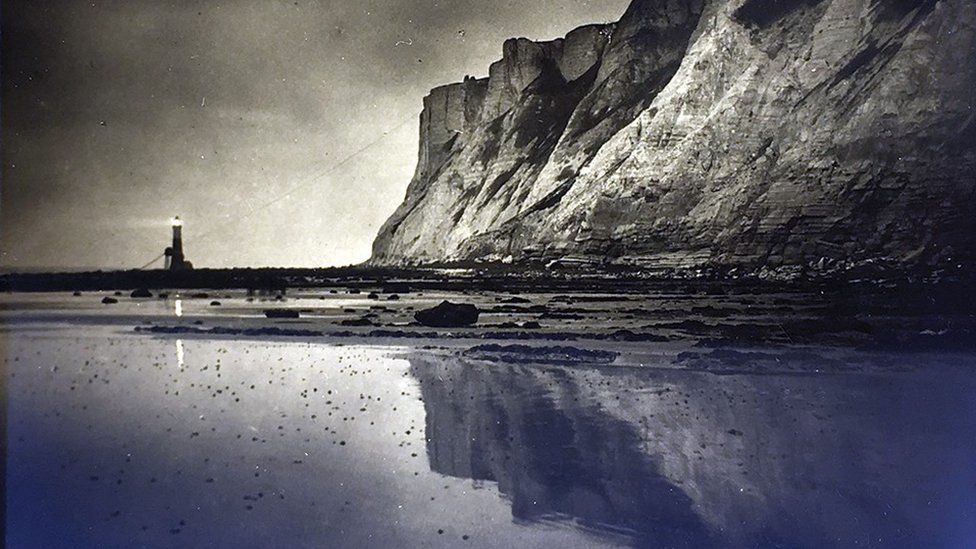 ... more Add a comment
Oldest complete Latin Bible set to return to UK after 1,302 years
One of the greatest of all Anglo-Saxon treasures, the oldest complete Latin Bible in existence, is returning to the UK for the first time in 1,302 years. The Codex Amiatinus is a beautiful and giant Bible produced in Northumbria by pioneering monks in 716 which, on its completion, was taken to Italy as a gift for Pope Gregory II ... more Add a comment
The scientist who created first encyclopedia of birds
Rare books and documents produced by a pioneering ornithologist known as the Isaac Newton of natural history are going on display in Yorkshire ... more Add a comment
It took me fifteen years to discover I had no talent for writing, but I couldn't give it up because by that time I was too famous.
ROBERT BENCHLEY