Shelf:Life
Shelf:Life - Links to what's new in the world of old, rare, and collectable books, insights into book collecting, the news stories that matter, and occasional comments by TheBookGuide. Archived Stories.
28.03.18.
Bookseller convicted of stealing rare Harry Potter novel
A bookseller has been convicted of stealing a rare edition of a Harry Potter book worth £1,675 by swapping it with a novel of "very little value". Rudolf Schonegger pocketed the copy of Harry Potter And The Goblet Of Fire, signed by JK Rowling, at Hatchards in Piccadilly, on New Year's Eve ... more Add a comment
A symbolic struggle over ancient manuscripts
The Garima Gospels exemplify a wider conflict over heritage and conservation. The moving of sacred objects to profane settings arouses particular anxieties. "Museums necessarily re-contextualise the objects on display," says Michael Di Giovine, author of "The Heritage-scape", a book about heritage and tourism ... more Add a comment
300-year-old 'secrets of sex' manual sells for £3100 at auction
A 'secrets of sex' manual dating back to 1720 sold for thousands of pounds at auction yesterday(27 March). Bids from all over the world came in for the book, 'Aristotle's Masterpiece Completed In Two Parts, The First Containing the Secrets of Generation', which was found by Derbyshire's Hansons Auctioneer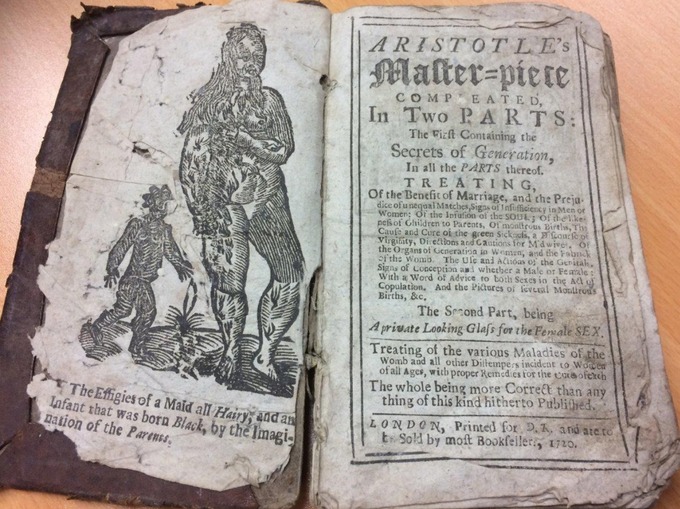 ... more Add a comment
Final chapter? The slow death of Islamabad's secondhand bookshops
Since the 1970s, 'old bookshops' have lent character to Pakistan's capital. But as the city's economy surges, how long can they survive? ... more Add a comment
---
22.03.18.
314 Items Stolen From Carnegie Library's Rare Books Room
Among the stolen objects are nine books printed before 1500; and a 1687 first edition of Isaac Newton's "Philosophiae Naturalis Principia Mathematica." A first edition of Adam Smith's "The Wealth of Nations" was also taken ... more Add a comment
Milton Glaser: "Art and design are not the same thing"
The celebrated American graphic designer Milton Glaser has compiled a book of over 400 of his posters from the last six decades. We speak to him about the new publication, the need for graphics to be effective and beautiful, and why drawing is still an important skill today ... more Add a comment
Unprecedented collection of maps of Japan offered in Tokyo
Daniel Crouch Rare Books offers what is dubbed the largest collection of maps of Japan ever to come on the open market at this week's Tokyo Book Fair
... more Add a comment
---
20.03.18.
Call for help to find stolen London underground map
The auctioneer believes it was taken during the viewing period on the morning of the February 17 sale, unbeknown to the auctioneer at the time, who proceeded with the sale of the lot with the hammer coming down at £3200 ... more Add a comment
1,500-year-old invisible Greek manuscript recovered by laser
A high-powered particle accelerator is being deployed to uncover ancient Greek medical secrets which were scrawled in a book 1,500 years ago. They were later scraped off and replaced by religious scripture ... more Add a comment
Unusual things found in medieval manuscripts
Book curses, the scribblings of children, and errant paw prints are just a few clues that show us more about the lives of medieval book owners. Here, historian Deborah E Thorpe considers the owners and readers of the Middle Ages who left behind some weird and wonderful evidence ... more Add a comment
How instagram powers one sci-fi lover's book dealing business
When Adam Axler, the bookseller behind the Instagram account Collectible Science Fiction, first joined the service, his profile picture was David Pelham's 1973 cover to science fiction master Philip K. Dick's The Three Stigmata of Palmer Eldritch
... more Add a comment
---
15.03.18.
Obituary: Pete James, Curator of Photography Collections at the Library of Birmingham
Best-known for building an unrivalled photography collection during his 26 years at the Library of Birmingham, Pete James was a well-loved and respected figure who championed British photographers in many other ways ... more Add a comment
Ever wonder how medieval monks made illuminated manuscripts?
This quick video only scratches the surface of a process that could sometimes take months ... more Add a comment
---
12.03.18.
The best motoring books: appreciating classics
Expensive, limited-run motoring books are offering big returns to canny buyers. John Evans asks for some investment advice ... more Add a comment
Up in smoke: should an author's dying wishes be obeyed?
Harper Lee never wanted Go Set a Watchman brought out, Sylvia Plath's diary was burned by Ted Hughes - the controversial world of literary legacies ... more Add a comment
Lost portrait that Churchill hated estimated to fetch £10k at auction
A "super-rare" sketch for a lost portrait of Winston Churchill will go under the hammer this month. The artist Graham Sutherland was commissioned to paint Sir Winston Churchill in 1954 for a portrait paid for by MPs as an 80th birthday present. The Prime Minister, however, hated the artwork, which showed him as an aging figure ... more Add a comment
---
7.03.18.
Beatles-signed Peterborough hotel register at auction
A hotel visitors' book signed by all four members of the Beatles is expected to fetch about £10,000 at auction. The Fab Four checked in to The Bull Hotel in Peterborough on 2 December 1962, ahead of a gig in the city. ... more Add a comment
Oldest message in a bottle found
A Perth family has found the world's oldest known message in a bottle, almost 132 years after it was thrown into the sea, Australian experts say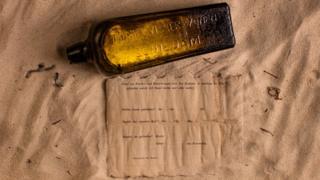 ... more Add a comment
---
5.03.18.
Comic that features the arrival of Batman could fetch $1m
A previously unknown copy of the Golden Age comic that heralds the arrival of Batman, is expected to top $1m at auction in the US next week ... more Add a comment
Suffragette board game up for auction
The 109-year-old Pank-a-Squith set, which was designed to raise money for the women's rights movement, was named after its leader Emmeline Pankhurst and the prime minister Herbert Asquith
... more Add a comment
Domesday book lent to British Library for Anglo-Saxon exhibition
Domesday, the earliest public record and perhaps the most famous book in English history, is to be lent to the British Library for a landmark exhibition on the Anglo-Saxons ... more Add a comment
---
1.03.18.
One of the World's most irreplaceable books was used as a cutting board
The Exeter Book, inscribed in the 10th century, is a rare treasure. Many scholars consider it one of the building blocks of English literature. But it's suffered damage along the way that goes far beyond the usual wear and tear. For one thing, one of the book's previous owners used it as a cutting board. And an entirely different person used the book as a coaster, which left a literal lasting impression: a ring that soaked through the pages ... more Add a comment
Five libraries around the world that are open despite the odds
On World Book Day, a look at libraries from Egypt to Dominica that have remained open despite death threats, extreme weather and terrorism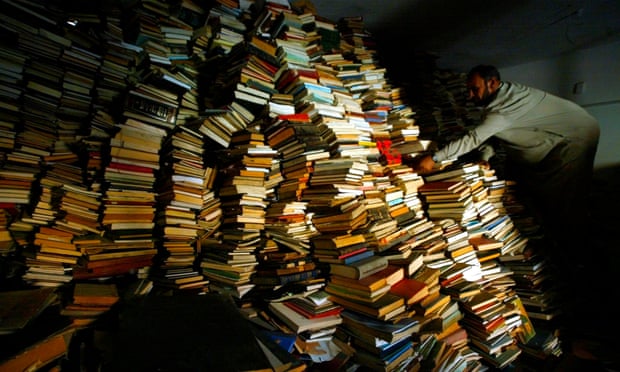 ... more Add a comment
You cannot open a book without learning something.
CHINESE PROVERB