Shelf:Life
Shelf:Life - Links to what's new in the world of old, rare, and collectable books, insights into book collecting, the news stories that matter, and occasional comments by TheBookGuide. Archived Stories.
30.05.18.
The strangest bookmarks left at libraries
What is the cheesiest book you've ever read? For Washington DC librarian Anna Holmes, it wasn't so much the book, as the slice of Kraft American that she found inside it, clearly used by a cheese-loving patron as a bookmark. The library branch has seen three "cheese bookmark" incidents to date, according to Holmes, who made a plea on Twitter for readers to "PLEASE stop using cheese as a bookmark. Please. We give away actual bookmarks for free. Or like us use a receipt or something. Just not perishables" ... more Add a comment
I once bought a book the owner of which had used what appeared to be a piece of lettuce as a bookmark! - TBG 30.05.18.
What ever happened to the 'Mission Impossible' rare-book thieves?
Three thieves who stole 160 rare books more than a year ago by rappelling down the skylight of a warehouse in London continue to evade police, leaving a series of mysteries in their wake
... more Add a comment
---
18.05.18.
How to protect rare books and manuscripts from climate change
Centuries of written history are at risk of being damaged by climate change. Yet archivists, the stewards of this history, have sometimes been slow to wake up to the danger ... more Add a comment
Manuscripts of Marx and Engels to be auctioned in Beijing
Two original manuscripts by Karl Marx and Friedrich Engels will be put up for auction on May 21, said Beijing Council International Auction In one handwritten note mainly in English and occasionally German, Marx talked about A Practical Treatise on Banking by James William Gilbart. The note was later used by the German philosopher in his studies multiple times ... more Add a comment
Exhibition offers rare glimpse of early medieval Ireland
From the control of dogs and bees to the roles of church and state, precious manuscripts outlining laws that governed everyday life in early medieval Ireland have gone on show at Trinity College Dublin as part of an important exhibition of rare Irish manuscripts
... more Add a comment
Secrets of the biggest comic book collection in the world
A few weeks ago, on Free Comic Book Day, Bob Bretall came back from his local indie comic shop with about 480 new comics. It was a monster haul, sure, but you have to see it from his perspective. When you own the world's largest personal comic book collection, with well over 100,000 individual issues, no purchase, short of maybe buying an entire comic book shop, is going to seem particularly monumental ... more Add a comment
Stan Lee sues former company for $1bn in damages
Famed Marvel superhero creator Stan Lee is seeking more than $1bn (£740m) in damages from his former company POW! Entertainment, alleging that he was tricked into signing a document giving away rights to use his name and likeness ... more Add a comment
Original Tintin Art by Hergé May Bring $720,000
An extraordinary, 12-panel page of Original Tintin Art by Belgian cartoonist Hergé may sell for as much as $720,000 in Heritage Auctions' first European Comic Art Auction June 2 ... more Add a comment
Dutch scholar awarded prestigious bookseller prize
Dutch scholar and author Ina Kok will receive the 2018 award, and an endowment of $10,000, for her four-volume work: Woodcuts in Incunabula Printed in the Low Countries (2013) ... more Add a comment
---
14.05.18.
Lady Chatterley's first edition in Darlington auction
A signed first edition of one of the most controversial books of the 20th century will go under the hammer in a sale set to get bidders talking. One of only 1,000 copies of DH Lawrence's Lady Chatterley's Lover is being auctioned in Darlington tomorrow, carrying a price estimate of £5,000 to £7,000 ... more Add a comment
Attempt to smuggle historic books, manuscripts failed
CAIRO - 13 May 2018: The Archeological Unit affiliated with the Ministry of Antiquities, in cooperation with the Customs Unit at the Cairo International Airport, thwarted a smuggling attempt of seven parcels containing three historic books, manuscripts and 10 governmental documents to an Arab country
... more Add a comment
---
5.05.18.
Proof of Planet Nine in Medieval Manuscripts
We can only imagine how often hard science majors have scoffed at people like Marilina Cesario, who got her degree in medieval history. While the scientific community is busy mapping the Milky Way and building plans to colonize Mars, what are medieval historians even doing with their time? Helping prove the existence of a ninth planet in our solar system, that's what ... more Add a comment
Resurrecting the art of China's dragon scale bookbinding
At his studio in Beijing, artist Zhang Xiaodong layers hundreds of sheets of thin paper on top of one another until they form a complete and impeccable image. When the chapters of his elaborate books are unfolded, the pages move like the bellows of an accordion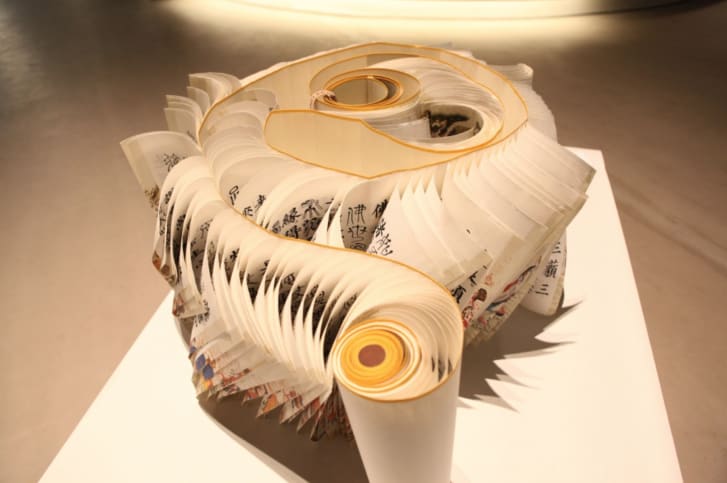 ... more Add a comment
King James Bible's includes work by a French scholar
A scholar has discovered that the King James Bible includes work by a previously unsuspected French translator, whose contribution to the quintessentially English work has lain undetected for 400 years ... more Add a comment
---
3.05.18.
Rare edition of 'The Hobbit' sells for 29,000 EUR
It was a pretty penny more than the seller's grandfather must have paid for the 1937 copy of The Hobbit at a jumble sale 30 years ago. She put it into yesterday's rare books sale by Fonsie Mealy Auctioneers, where bidding began at 16,000 EUR lower than the pre-sale lower estimate of 20,000 EUR ... more Add a comment
Mosul library recreated in Norfolk country house installation
Recreation forms part of an immersive six-month project at National Trust's Blickling Estate exploring the importance of books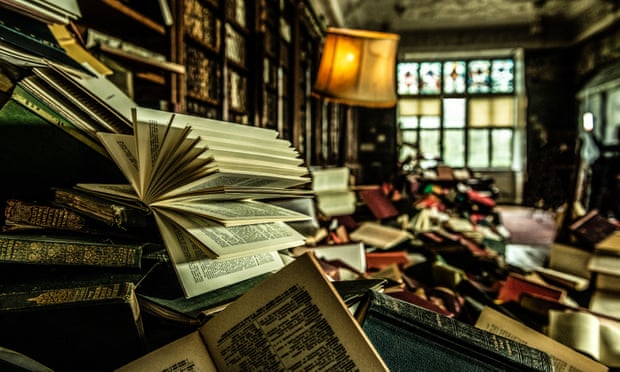 ... more Add a comment
'Jack the Ripper warning card' sells for £22,000 at auction
The ink-written card arrived at Ealing Police Station on October 29, 1888 - just 11 days before the serial killer's last suspected victim Mary Kelly was disembowelled. A British private collector won a bidding war with an American for the rare letter, "the likes of which have never come up for sale before", Jonathan Riley, of Grand Auctions Ltd, in Folkestone, Kent, said ... more Add a comment
Auction of Audubon's Book on Birds Could Fetch $12m
The richly illustrated 19th-century book, featuring more than 400 hand-colored illustrations of 1,037 life-size birds, is one of just 13 complete sets thought remaining in private hands, Christie's said. According to the auction house, the book was "among the most superlative copies in private hands of the finest color-plate book ever produced." It gave it a presale estimate of $8 million to $12 million, Reuters reported ... more Add a comment
A house without books is like a room without windows.
HORACE MANN