Shelf:Life
Shelf:Life - Links to what's new in the world of old, rare, and collectable books, insights into book collecting, the news stories that matter, and occasional comments by TheBookGuide. Archived Stories.
25.06.18.
Stone the crows: image of a cocky found in 13thC manuscript
Hello cocky! In a discovery bound to elicit mass squawks of surprise, images of a white cockatoo have been discovered in a manuscript from 13th century Sicily ... more Add a comment
Was George Orwell secretly a reactionary snitch?
In 1949 the man who conceived Big Brother gave a semi-secret government department a list of 38 'crypto-communists' and 'fellow travellers' - a revelation that has given rise to a peculiar revisionism of his legacy ... more Add a comment
French museums swoop on books, letters and manuscripts
French institutions exercised their right of pre-emption on a number of occasions as the gargantuan disposal of the Aristophil collections of historic manuscripts began last week
... more Add a comment
---
23.06.18.
Ancient books reveal the theatre of old machines
IMechE archivist Karyn French dusts off some ancient books to find an intriguing mixture of engineering wisdom and flights of fancy ... more Add a comment
Rare collection of unique agricultural books to be sold at auction
A historic agricultural college is to sell off a unique collection of more than 3,000 ancient manuscripts amid fears they will be lost to the nation
... more Add a comment
---
22.06.18.
Medieval manuscript fetches over 4 million euros
A businessman accused of fraud claims he has been vindicated after a medieval manuscript was sold for more than 4 million euros at an auction house in Paris on Saturday. Former owner Gerard Lheritier is facing prosecution for frauding investors with a company that acquired 130,000 artworks and literary treasures - but he says the high prices being obtained in the bankruptcy sale show that his scheme was genuine ... more Add a comment
---
20.06.18.
Titanic postcard with haunting message written by maid goes up for auction
A postcard written by a maid on the Titanic to a friend which said "wish you were here" is expected to fetch more than £20,000 at auction ... more Add a comment
Quentin Blake to auction 'joyful' mother and baby watercolours
Revealing another side to the much-loved illustrator of classic children's novels such as The BFG and The Twits, Sir Quentin Blake's series of watercolours of naked mothers with their babies feature in an assortment of pictures from the acclaimed illustrator' s personal collection which are due to be auctioned for charity next month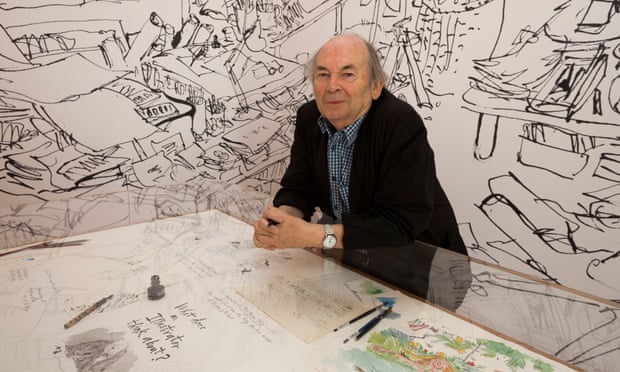 ... more Add a comment
---
19.06.18.
Miracle on St Benedicts Street
When the owner of Auckland's famous Hard to Find Bookshop was facing bankruptcy and out of options for a new home for his 90,000 books, he asked for a miracle. And got one ... more Add a comment
The new rare: why counter-culture collections is trending
Michael Horowitz, owner of Flashback Books Canada, started collecting when he lived in San Francisco in the 1960s. A participant in the underground movements of the day, Horowitz had the foresight to keep the books, magazines, posters, fliers, and street handouts from the rallies and parties he attended ... more Add a comment
---
16.06.18.
Illuminated mediaeval manuscript fetches 4.2 million euros
An illuminated mediaeval manuscript known as the Petau Book of Hours has been sold at auction for more than 4.2 million euros, or around six times its asking price, auctioneers Drouot said on Saturday ... more Add a comment
British exhibitions of Ethiopian manuscripts prompt questions
Exhibitions at British cultural institutions have lately underscored the artistic output of Ethiopian scribes, and in the process, have also renewed questions around whether museums that have benefitted from acts of imperialism and colonialism should now return looted objects
... more Add a comment
---
15.06.18.
Audubon's 'Birds of America'sells for $9.6 million
A first edition of John James Audubon's The Birds of America, one of the most celebrated books of natural history, sold for US$9.65 million at auction in New York on Thursday, Christie's said ... more Add a comment
The surprising practice of binding old books with scraps of older books
For centuries, bookbinders commonly used whatever materials they could get - including entire manuscript pages
... more Add a comment
Hidden writing in ancient desert monastery manuscripts
For a monk who lives in the Sinai desert in Egypt, in the world's oldest working monastery, Father Justin replies to emails very speedily. It should come as no surprise: the Greek Orthodox monk is in charge of hauling the library at St Catherine's into the 21st Century ... more Add a comment
---
14.06.18.
How punk rock changed the course of design history
Punk, and its associated subcultures revolutionized design practice. A slew of new shows and books reckons with its impact ... more Add a comment
---
13.06.18.
What titles did Captain Scott take to the Antarctic?
When you are planning a major expedition, the first "must-have" to include on your packing list is naturally thousands of books ... more Add a comment
John Byrne's giant book to pop-up at V&A Dundee
A pop-up book painted by John Byrne for the original stage set of The Cheviot, the Stag and the Black, Black Oil will be displayed at V&A Dundee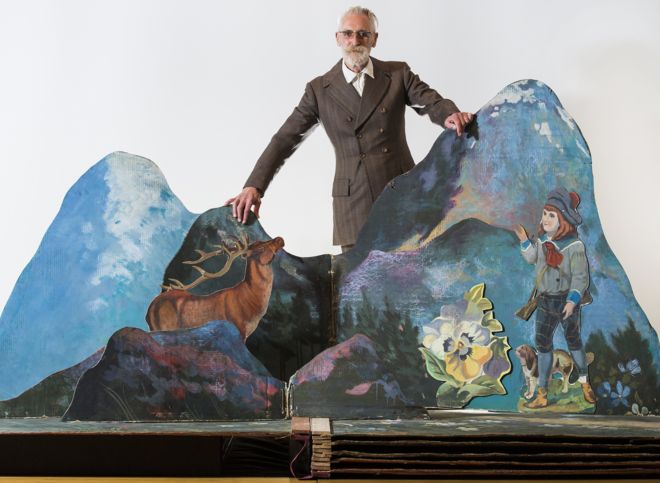 ... more Add a comment
Einstein's travel diaries reveal 'shocking' xenophobia
Private journals kept by the scientist and humanitarian icon show prejudiced attitudes towards the people he met while travelling in Asia ... more Add a comment
---
9.06.18.
What self-help looked like in the 17th century!
A fascinating self-help handbook which reveals how women were expected to behave in the 17th century has sold at auction for £1,700. The rare 1673 first edition of The Gentlewoman's Companion by Hannah Woolley gave the fairer sex advice on how to respond to a man seeking 'lewd and immodest actions' ... more Add a comment
Lawrence Ferlinghetti's 'experimental' new book
The 99-year-old poet Lawrence Ferlinghetti, one of the last surviving members of the Beat generation, has sold an "experimental" new novel to a major American publisher, and it is due out in time for his 100th birthday ... more Add a comment
How a Chinese manuscript written 2,300 years ago ended up in Washington
Sitting in an underground storeroom near the Washington Mall is a tiny silk parchment. Written 2,300 years ago, it is a Chinese version of the Dead Sea Scrolls, with text that swirls like the stars through the firmament and describes the relationship between humans and heaven. For decades, the ancient document, known as the Chu Silk Manuscript, has fascinated people seeking an understanding of the origins of Chinese civilization. But it has been hidden from public view because of its fragility - and the uncertain circumstances by which it ended up in the United States
... more Add a comment
Gaelic manuscripts have been given global significance status
Manuscripts dating from the 14-18th century have been inscribed in a "Memory of the World" register of historically important documents. The manuscripts, which are held at the National Library of Scotland in Edinburgh, are said to be the largest collection of late medieval Scottish Gaelic manuscripts anywhere in the world ... more Add a comment
---
5.06.18.
Books attract the bidders in Tamlyns auction
A single owner collection of books attracted worldwide attention when they went under the hammer at Tamlyns Auctioneers' auction held on May 16 ... more Add a comment
Rare Tintin drawings fetches $425,000 at auction
Two rarely-seen drawings of Tintin from the comic book album 'The Red Sea Sharks' sold for $422,000 (364,000 euros) on Saturday in Dallas, Texas, the auction house selling the sketches said ... more Add a comment
Antiquarian booksellers adapt to the 21st century (gradually)
Rare Books London is a sprawling umbrella promotion of auctions, fairs, talks and tours that takes place here from May through June. The "jewel in the crown" of the event, according to its website, was the ABA Rare Book Fair, whose 61st edition, featuring 175 British and international dealers, closed on Saturday. More than a third of the exhibitors were based outside Britain
... more Add a comment
'First colour-printed book' returns to St Albans
A book thought to be the first to be printed in colour in the UK is returning to the city where it was produced for a new exhibition ... more Add a comment
Rich diet
A handwritten cookery manuscript containing a glimpse of the menu from England's first Indian restaurant has sold for $11,344 at a London book fair. It refers to dishes like "pineapple pullaoo" and "chicken currey" from the Hindoostane Dinner and Hooka Smoking Club, opened in 1809 at Portman Square, London, by Sake Dean Mahomed, whose roots lay in Bihar ... more Add a comment
---
1.06.18.
Two Ronnies 'four candles' script sells for £28,000
Penned by Ronnie Barker under the pseudonym Gerald Wiley, it first aired on the BBC in 1976 and went on to be voted the greatest Two Ronnies sketch ... more Add a comment
The paperback is very interesting, but I find it will never replace the hardcover book - it makes a very poor doorstop.
ALFRED HITCHCOCK