Shelf:Life
Shelf:Life - Links to what's new in the world of old, rare, and collectable books, insights into book collecting, the news stories that matter, and occasional comments by TheBookGuide. Archived Stories.
25.09.18.
Shrewsbury Town programmes look set to fetch £10,000
More than 3,000 Shrewsbury Town football programmes, including rare examples, are expected to fetch about £10,000 at auction. The collection includes virtually every matchday programme, home and away, since the club was elected to the Football League in 1950 to the present day ... more Add a comment
---
22.09.18.
Why do people steal rare books?
American Animals, a film recounting the true story of a 2004 rare book theft, was recently released in cinemas across the UK. The film is a dramatic retelling of events based on director Bart Layton's interviews and written correspondence with the convicted book thieves – interactions which began while the thieves were serving seven-year prison sentences following their guilty pleas ... more Add a comment
---
20.09.18.
Jack Kerouac letter to mother recounts 'On the Road' adventures
Written 10 years before the book that defined the Beat Generation, appeal for a $25 sub is now on sale in California for $22,500 ... more Add a comment
Book of Durrows loaned to British Library for exhibition
One of Ireland's most important manuscripts, dating back more than 1,300 years, is to go on loan to the British Library. The Book of Durrow is one of the earliest surviving Gospel books in Europe and preceded the Book of Kells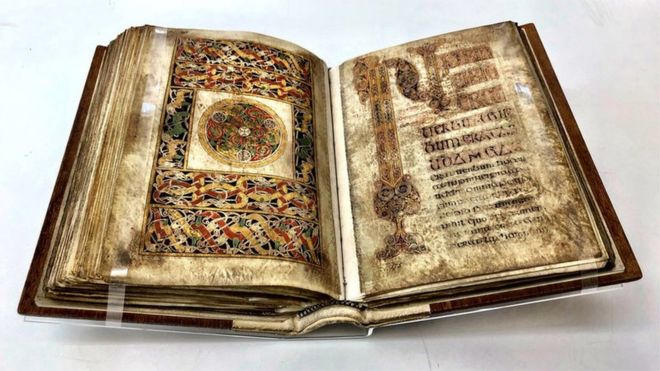 ... more Add a comment
---
14.09.18.
CS Lewis Narnia letter sells for £9,800 at auction
A letter written by Narnia creator CS Lewis to a group of schoolchildren has sold at auction for almost £10,000. The two-page letter was sent to pupils at Grittleton House School in Wiltshire on 22 May 1952 ... more Add a comment
British Printing Society to host Southampton's first Wayzgoose
You can expect stalls selling prints, books, printed ephemera, letterpress supplies and a goody bag for the first 20 visitors. Entry is free and there will be tea, coffee and cakes available ... more Add a comment
---
13.09.18.
Forbidden love: the original Dorian Gray revealed
Published for the first time, the handwritten manuscript of the 1891 novel shows a writer struggling with Victorian morality ... more Add a comment
The Power of Artists' Books to Bind Together Radical Ideas
An exhibition at the Getty Research Institute illustrates the myriad ways that contemporary artists have pushed the boundaries and definitions of the book
... more Add a comment
Mexico's Mayan codex is 'Most Ancient Pre-Hispanic Manuscript'
Previously known as the Grolier codex, the manuscript's authenticity has been confirmed by experts and the document is believed to date from 1021 A.D ... more Add a comment
---
11.09.18.
CS Lewis letter discussing Narnia and his favourite books up for auction
A letter written by Narnia novelist CS Lewis to a group of schoolchildren is expected to sell for more than £5,000 at an auction tomorrow ... more Add a comment
Book fair robbed of rare volumes worth thousands of dollars
Thousands of dollars in potential revenue for suicide prevention charity Lifeline have been ripped away, after a thief entered its Canberra book fair and stole dozens of rare books ... more Add a comment
Any storm in a port: The Bookshop reviewed
The Bookshop, directed by Isabel Coixet of Catalonia, is about that mole-like impulse to burrow away from the world, and how the world still forces us to see ugly spectacles of human nature. Adapted from Penelope Fitzgerald's novel of 1978, this is a minor-key pleasure, beautifully paced, skillfully acted, and thoroughly sad
... more Add a comment
---
4.09.18.
Book found in Olney Oxfam charity shop sold for £30k
A book of etchings by a famed Italian artist which was found in a charity shop has fetched £30,000 at auction. Despite being without its front cover, the book attracted the attention of Tim Street - who volunteers at the Oxfam shop in Olney, Buckinghamshire ... more Add a comment
How two thieves stole thousands of prints from university libraries
In the summer of 1980, Robert Kindred was a 35-year-old high school dropout with no plans of going to college. Despite that, scattered in the backseat of his newly leased Cadillac Fleetwood Brougham were half a dozen guides to American college and university locations, each representing a region of the United States. He also had a single volume covering the entire country in his briefcase. A former Boy Scout, he liked to be prepared
... more Add a comment
How medieval illuminated manuscripts marked the rebirth of artistic freedom
Academics have tried to prove that these images were in some way necessary to the text and its scholastic intention, but their arguments often seem tenuous. Little is known about what drove craftsmen to paint some of the weirder images in illuminated manuscripts. But the fact of their existence feels like a small victory for imagination and artistic identity in an age of inherited artistic formulae that heavily relied on scriptural dogma and complex religious symbols ... more Add a comment
Some editors are failed writers, but so are most writers.
GEORGE ELIOT