Shelf:Life
Shelf:Life - Links to what's new in the world of old, rare, and collectable books, insights into book collecting, the news stories that matter, and occasional comments by TheBookGuide. Archived Stories.
30.10.18.
Bodleian dubbed world's 'second most beautiful library'
Oxford's Bodleian Library is the second 'most beautiful' library in the world, new research suggests. ... more Add a comment
Ancient Egyptian manuscript sold at Sotheby's for £10,000
Sotheby's International Auction House in London presented an auction titled "The Arts of the Islamic World in the Middle East". The auction included four Egyptian manuscripts for sale
... more Add a comment
---
27.10.18.
Unseen Sylvia Plath short story to be published in January
An "important" short story written by Sylvia Plath when the poet was 20 years old will be published for the first time in January 2019 ... more Add a comment
Magna Carta 'theft'
Wiltshire Police, called after the Magna Carta display case was smashed, have arrested a 45-year-old man after the attempted theft of the 1215 document from Salisbury Cathedral ... more Add a comment
'Cunning Men of Essex'
A Magician's 350-year-old manuscript that shows 'how to get a woman to dance naked' sells for £22,000
... more Add a comment
---
21.10.18.
Egyptian Book of The Dead sells for 1.3 million euros
The complete Book of the Dead for Horwedja, dating from 594-588 B.C and made of papyrus, fetched the largest sum by far. Complete with 192 chapters, the text is written in hieratic script using black ink, with titles and important sections written in red ink ... more Add a comment
Behemoth Bible returns to England for first time in 1,300 years
In the early eighth century, three enormous Bibles were produced by monks at Wearmouth-Jarrow Abbey. Two were to remain in Northumbria, but in 716AD the other was sent, in the care of the then abbot, Ceolfrith, to Rome as a gift for Pope Gregory I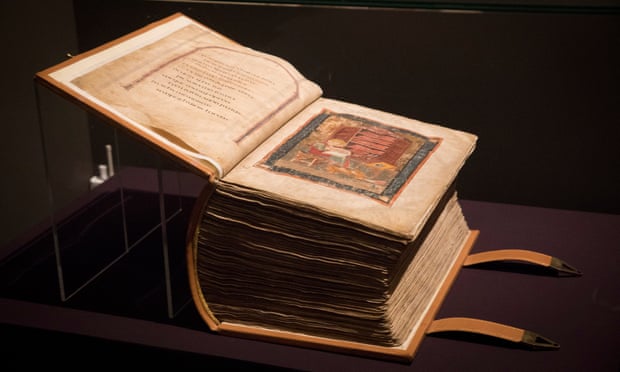 ... more Add a comment
---
19.10.18.
The oldest printed book in the world
A colophon at the end of the Dunhuang Diamond Sutra scroll dates it to 868, nearly six centuries before the first Gutenberg Bible ... more Add a comment
---
17.10.18.
London auction of medieval Qur'an manuscript raises Egyptian objections
Sotheby's, Britain's largest broker of fine and decorative art, has announced that it will sell a Qur'an manuscript dating back to the rule of Egypt's Sultan Al-Ghawri (1501-1516), raising objections of ownership from the Egyptian National Library and Archives ... more Add a comment
Jacobite treasures to go on show in rare display
The MacBean Collection of 3,500 books, 1,000 pamphlets plus sermons, broadsides, official reports and satirical verse is one of the largest Jacobite collections in Great Britain ... more Add a comment
PG Wodehouse fans delighted at plans for Westminster Abbey tribute
Westminster Abbey's plans to dedicate a memorial to PG Wodehouse 43 years after his death have been welcomed by the Wodehouse Society and by Ben Schott, who described the Jeeves and Wooster creator as the "personification of a very specific breed of English writing" ... more Add a comment
Egypt confiscates historic manuscript in Cairo International Airport
Egypt's Antiquity Unit, in cooperation with the Egyptian Customs Authority at Cairo International Airport, has succeeded in retrieving a historic manuscript dating back to the 10th Hijri century (Islamic Calendar), according to an announcement on the Ministry of Antiquities official Facebook page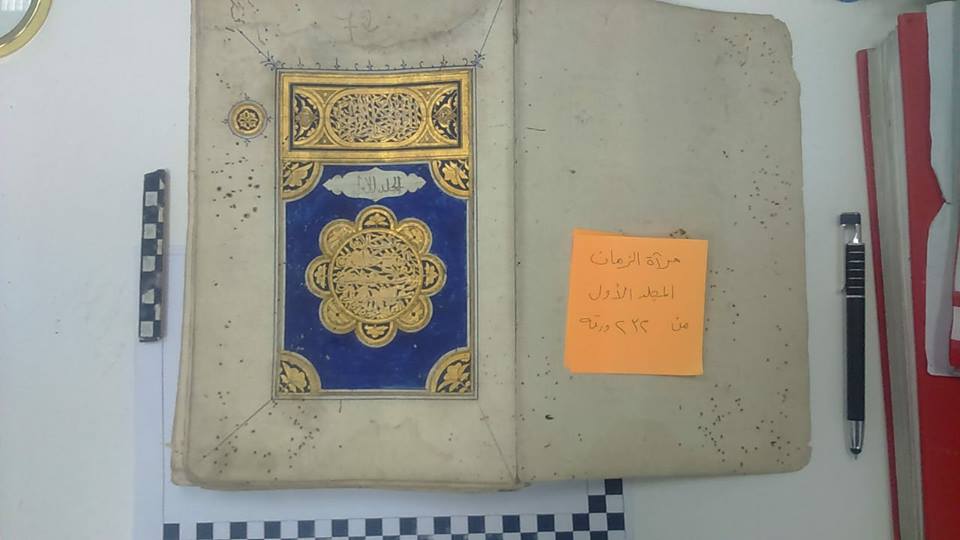 ... more Add a comment
Jewish prayer book owned by Marilyn Monroe up for auction
Monroe, the famous 1950s sex symbol, model and star of films such as "Monkey Business" and "The Seven Year Itch," converted to Judaism in 1956 upon marrying playwright Arthur Miller ... more Add a comment
---
15.10.18.
Programme to save Durham Cathedral's rare books launched
Durham Cathedral's adopt a book programme, which is now in its third year, gives people the opportunity to restore a book of their choosing from its extensive early printed collections ... more Add a comment
---
11.10.18.
Gardening for butterflies
This year's Heritage Open Day event for the John Innes Historical Collections was an opportunity to show off some of the entomological treasures in our Rare Books Library ... more Add a comment
---
6.10.18.
Bookselling is the most over-romanticised job in the world
This Bookshop Day, think of the booksellers who are dealing with bodily fluids, insufferable know-it-alls and shoplifters - and doing it all for the joy of reading ... more Add a comment
A closer look at a million-dollar medieval manuscript
At Frieze Masters, Dr. Jorn Günther Rare Books, an antiquarian dealer based in Basel (the city where the Swiss, French, and German borders meet), is selling one of these rare books (circa 1405) for a casual $1.15 million)
... more Add a comment
Cottingley Fairies photographs make £20,000 at auction
Two of the famous faked Cottingley Fairies photographs have sold for more than £20,000 at auction. The pictures were taken in 1917 by 16-year-old Elsie Wright and her nine-year-old cousin Frances Griffiths in the village of Cottingley, near Bingley in Yorkshire. The hoax fooled many people including Sherlock Holmes author Sir Arthur Conan Doyle ... more Add a comment
Einstein's famous 'God Letter' is expected to fetch $1 million
Albert Einstein's 1954 letter to religious philosopher Erik Gutkind is commonly referred to as the "God letter," and it features Einstein politely but very thoroughly roasting the concept of religion and God in general ... more Add a comment
---
1.10.18.
On her own in the room
When Elizabeth Crawford became a rare book dealer, setting up her first stand at a monthly fair in London in 1984, she was not the only woman in the room, but she was, she recalls, "on her own in the room" - women booksellers were, and still are, often accompanied by their spouses or partners in bookselling ... more Add a comment
'Candle in the Wind' Diana lyrics head for auction
The lyrics of some of Elton John's biggest hits - "Rocket Man," "I'm Still Standing," and the Princess Diana funeral version of "Candle in the Wind" - are going up for auction as the British musician's longtime collaborator clears out his archives ... more Add a comment
Roald Dahl's Matilda at 30: A heroine who changed lives
It's said that every good book is a self-help book, if you read it properly. It doesn't matter how far a story lies outside your own experience if it contains characters you connect with, and words you can draw support from. Roald Dahl's novel Matilda turns 30 today, and millions of readers have found comfort in its pages - and perhaps found themselves too ... more Add a comment
The golden age of the playbill
The British Library owns more than 240,000 posters and playbills, in some cases more than 300 years old, but to be protected, they need digitising. Nick Smurthwaite hears how the library is getting thousands of volunteers involved
... more Add a comment
Racism and stereotypes in colonial India's 'Instagram'
In the early 20th Century, picture postcards served as a kind of Instagram, giving Europeans a glimpse of the life their family and friends led in British colonial India. A recent exhibition at London's SOAS university showcased more than 300 such postcards that were sent from India to Europe between 1900 and the 1930s ... more Add a comment
The art of Quentin Blake
The illustrator never went to art college, but has a career spanning four decades and an instantly recognisable style that's made him globally famous ... more Add a comment
Books are not made for furniture, but there is nothing else that so beautifully furnishes a house.
HENRY WARD BEECHER