Shelf:Life
Shelf:Life - Links to what's new in the world of old, rare, and collectable books, insights into book collecting, the news stories that matter, and occasional comments by TheBookGuide. Archived Stories.
28.03.19.
Paul McCartney's school book sold for £46k after bidding war
It was snapped up for nearly 10 times its estimate by a UK telephone bidder at an auction of Beatles memorabilia in Newton-le-Willows, Merseyside ... more Add a comment
Rare first edition Harry Potter book fetches nearly £70k at auction
The rare first edition hardback - priced£10.99 on the back cover - was one of only 500 produced in the initial print run and belonged to Christopher Little, who was Rowling's first literary agent ... more Add a comment
One of Britain's oldest curry recipes is found
A cook book from 1688 that contains 'wacky' home remedies to tackle serious diseases such as tuberculosis and the plague with 'infused horse dung' and 'snail water' may also contain the oldest curry recipe in Britain ... more Add a comment
Thousand-year-old illustrated herbal manuscript now available online
Want to improve your body odor? Simmer artichoke in wine. Chest pains? Licorice root is what you need! Those and many more herbal remedies were described in an age-old manuscript which has now been digitized in stunning detail by the British Library
... more Add a comment
---
18.03.19.
Rare Chinese manuscript found in closet
The fragile, yellowed, woodblock manuscript is in relatively good condition, remarkable considering its age and the location where it was found: in a dark, dank storage closet in the Beaver Falls Historical Museum in the bowels of the Carnegie Free Library on Seventh Avenue ... more Add a comment
Unveiling the invisible
When an old painting shows signs of decay, most people's instinct would be to restore it, so as to bring it closer to how it originally looked like. However, some paintings - especially illuminated manuscripts - are too delicate to physically be restored ... more Add a comment
1,200 Year-Old Bible Recovered from Turkish Smuggling Network
An extremely rare edition of the Bible, thought to be around 1,200 years old, has been recovered from an antique smuggling network in Turkey after the smugglers were caught by the Turkish anti-smuggling patrol, who had been deployed by the Government in a province located in the south-east of the country
... more Add a comment
---
12.03.19.
Constable sketches bought for £3 make £115k at auction
Drawings by John Constable were discovered in a house clearance after the death of playwright Christopher Fry ... more Add a comment
Hidden Edward Elgar music manuscript discovered in Birmingham flat
The 'andante' melody by classical master - Sir Edward Elgar - and never heard before - was discovered on a musical manuscript tucked inside an autograph book at a flat in Gravelly Hill where it lay undiscovered for decades ... more Add a comment
Einstein manuscripts: More than 110 new documents released
Dozens of manuscripts belonging to Albert Einstein, many of them unseen in public before, have been unveiled by the Hebrew University of Jerusalem ... more Add a comment
The secret stories hidden in old books
A dedication, a doodle, a note in the margins: the treasures left by past readers ... more Add a comment
'I've built up a photography library worth up to £300,000'
Ashley la Grange on his teaching career - and how he hopes books will help pay for his retirement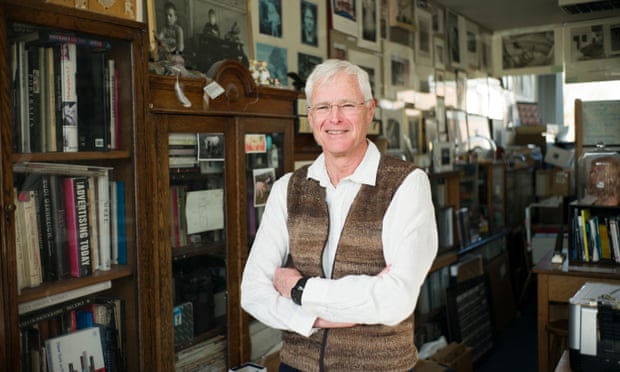 ... more Add a comment
---
9.03.19.
Most influential banned book revealed
Charles Darwin's On the Origin of Species (John Murray, 1859) has been named the most influential banned book following a public vote during Academic Book Week (4th to 9th March) ... more Add a comment
Swallows and Armenians: Arthur Ransome's forgotten inspirations revealed
A new art project is exploring how the characters in the English children's classic were modelled on a family from Aleppo ... more Add a comment
1494 book on how to succeed in business set to fetch up to $1.5 million
In 1494 Luca Pacioli, known as the Father of Modern Accounting, wrote the first practical how-to book on succeeding in business. It introduced many bookkeeping methods that are used today and is considered to have prefigured many aspects of the modern business world. Now the Italian mathematician's book is set to go on the auction block - and Christie's specialists claim it could fetch as much as $1.5 million ... more Add a comment
Treasured manuscript with da Vinci drawings unveiled in Geneva
In commemoration of the 500th anniversary of Leonardo da Vinci's death, the Geneva Library has made a late 15th-century manuscript with drawings attributed to the artist available to the public for the first time. It will then head to Rome where it will be on loan at the Scuderie del Quirinale
... more Add a comment
---
6.03.19.
The death of Richard Joseph
The PBFA has shared the sad news that Richard Joseph, publisher of Shepherds's Booksellers' Guides and the weekly Sheppard's Confidential newsletter, died on February 16th. Sheppard's Confidential will continue under the editorship of his son Adam. Add a comment
---
4.03.19.
Diana Athill's last words to be broadcast from beyond the grave
Publishing doyenne tells of success tinged by heartache in a film 'to be seen after my death' ... more Add a comment
Captain Scott and writer's block: the best tales of failure
From Geoff Dyer's book about writing a book, to Lucia Berlin's booze-soaked characters - Keggie Carew shares her favourite stories that teach resilience ... more Add a comment
Jaw-dropping books in the making
There are some eye-popping books in Kickstarter's Exquisite Objects initiative
... more Add a comment
Manuscript reveals links between Gaelic Ireland and Muslim world
A previously undiscovered 15th-century Irish vellum manuscript, reveals a connection between Gaelic Ireland and the Muslim world and indicates that medieval Ireland was once at the centre of medical scholarship in the world ... more Add a comment
---
2.03.19.
1711 and all that: the untold story of The Spectator
The first edition of the first Spectator was published 308 years ago today. I recently found a copy in a second-hand bookshop (pictured above), complete with every issue of the first series of that publication. It's one of the most expensive things I've bought but gives me no end of pleasure and inspiration ... more Add a comment
Lost Maps of the Caliphs
Around 1,000 years ago (sometime between 1020 and 1050, to be as precise as we can be), a Muslim scholar living in Cairo wrote a book. Titled The Book of Curiosities of the Sciences and Marvels of the Eye, its subject matter was nothing less than the heavens and the earth, depicted in an array of maps and diagrams that form its centrepiece ... more Add a comment
800 Medieval illuminated manuscripts are now available online
The manuscripts, all dated between 700 and 1200, are being made available to the general public for the first time, thanks to a collaboration between England and France
... more Add a comment
---
1.03.19.
Squinky pigsquiffle! How Roald Dahl teaches children creative swearing
A new book by lexicographer Susan Rennie collects the author's nonsensical insults and expletives, celebrating 'words that push the boundaries a little bit' ... more Add a comment
Many a book is like a key to unknown chambers within the castle of one's own self.
FRANZ KAFKA