Shelf:Life
Shelf:Life - Links to what's new in the world of old, rare, and collectable books, insights into book collecting, the news stories that matter, and occasional comments by TheBookGuide. Archived Stories.
24.06.19.
Publisher made a fortune from book imitations
A Victorian publisher who made a fortune from imitations of Charles Dickens' novels, which "outraged" the author, is the subject of a new book. In the 1840s Edward Lloyd published Oliver Twiss, Nickelas Nickelbery and Martin Guzzlewit soon after Dickens wrote the books they were based on ... more Add a comment
There's a book bound in human skin in Bristol - and you can go see it
One of the most gruesome artefacts on display anywhere in Bristol is undoubtedly the book of notes on the 1821 trial of John Horwood. Tucked away in a ground floor corner of the M Shed Museum, this weathered old book has a terrible secret. It was bound in the skin of John Horwood himself ... more Add a comment
Book lost for over a century found
Writer Alice Thornton, who lived through the English Civil War, penned several volumes about her life as a 17th century woman during turbulent times. But one of the books had been presumed missing since early last century, leaving a gap in her story - until now
... more Add a comment
---
17.06.19.
World auction record for a copy of Darwin's On The Origin Of Species
New York - A fine first edition, early presentation copy of Charles Darwin's On the Origin of Species by Means of Natural Selection sold for $500,075, a world auction record for a presentation copy of Darwin's On the Origin of Species, at Bonhams Fine Books and Manuscripts sale in New York on June 13. It had been estimated at $200,000-300,000 ... more Add a comment
A library of one's own
Once upon a time, a university student called Chris Browne decided to take up book collecting. It was 1970, and he bought a first edition of Ian Fleming's James Bond spy thriller The Man With the Golden Gun for two shillings at a charity shop in Oxford, England. Back then, collecting was a fun hobby while Browne studied medical science at Oxford University. It was to grow into an incurable lifelong obsession ... more Add a comment
Scholars one step closer to the ancient words of Buddha
The oldest Buddhist texts in the world are crumbly, prone to flaking into pieces at any time. Even conservators can't touch them with their bare hands. Mark Allon, one of 20 people in the world who can read the scrolls' ancient language, says in comparison, the crumbling birch bark artefacts take researchers "way, way back" ... more Add a comment
Secondhand bookstore empowers Greece's homeless
Relegated to the ranks of Greeks made homeless during the country's economic crisis, one 70-year-old man reclaimed some of his past glory by taking matters into his own hands. Demetrios Ioannou reports from Athens
... more Add a comment
---
10.06.19.
Bright Young Booksellers
Fine Books & Collections' Bright Young Booksellers series continues with Dr Anke Timmermann of Type & Forme in Grantham, Lincolnshire, England ... more Add a comment
Getting rid of books doesn't have to be a chore
Saying goodbye to favourite titles is like saying goodbye to friends. Combining the two can ease the grief of both ... more Add a comment
---
9.06.19.
Student discovers lost Siegfried Sassoon poem to young lover
It is a poem of only eight lines, but those lines are filled with tender emotion for a young man who was the author's lover. The words are all the more poignant as the poem dates from a time - the 1920s - when he could never have written openly of homosexual love ... more Add a comment
An early 'Tintin' cover sells at auction for $1.1 million
An original drawing used for the first published "Tintin" cover was sold at auction on June 8 in Dallas for $1.12 million, the Heritage Auctions house said
... more Add a comment
London's iconic Feminist Library is set to move into its new home
The Feminist Library is in the process of moving to its new home in Peckham after supporters raised over £65,000 in a crowdfunding campaign ... more Add a comment
---
6.06.19.
Irish manuscript returned
An American family in possession of a valuable manuscript by a Famine-era poet have returned it to the Irish community that was once home to the writer ... more Add a comment
Why does the letter 's' look like an 'f' in old manuscripts?
Where did the long s come from and why has this character largely disappeared? John Overholt, a curator at Harvard University's Houghton Library, told Live Science that the long s originated in handwriting and was later adopted in typography when printing became widespread in Europe during the Renaissance ... more Add a comment
---
1.06.19.
Rare seventeenth century poetry manuscript at risk of export
An incredibly rare Stuart manuscript of works by the poet John Donne is at risk of leaving the UK unless a buyer can be found to match the £466,000 asking price ... more Add a comment
Firsts - London's Rare Book Fair celebrates its 62nd year
The Antiquarian Booksellers' Association's annual flagship event Firsts - London's Rare Book Fair runs from June 7-9 and will be opened by actor, writer and rare book collector, Stephen Fry ... more Add a comment
Guardian - Good Omens review
The two leads shine as an angel and a demon facing down the apocalypse. But this adaptation of Terry Pratchett and Neil Gaiman's novel goes to hell when they're not around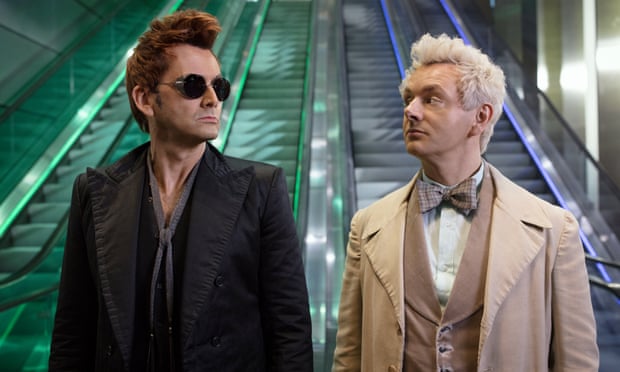 ... more Add a comment
In literature as in love, we are astonished at what is chosen by others.
ANDRE MAUROIS