Shelf:Life
Shelf:Life - Links to what's new in the world of old, rare, and collectable books, insights into book collecting, the news stories that matter, and occasional comments by TheBookGuide. Archived Stories.
27.07.19.
Medievalists excited at parchment fragment of 'vagina monologue'
It has been called the earliest form of the Vagina Monologues - an argument in verse between a woman and her vulva, originating in the Middle Ages. Now a fragment of the text, about who gives more pleasure to men, dates the poem to 200 years earlier than previously thought ... more Add a comment
Making a case for south Indian miniatures
Art historian BN Goswamy's new study of a rare 19th century manuscript from Mysore reveals the little-known world of miniatures from south India. The Mysore manuscript, which narrates a part of the Bhagavata Purana in Old Kannada, contains 215 illustrations
Add a comment
A wake for New York's last Pirate Bookseller
Whisky, wine and memories as friends mourned Michael Seidenberg - and also Brazenhead, a secret bookstore he ran out of his Manhattan apartment ... more Add a comment
DH Lawrence postcard almost chucked into a skip
The card was sent to Miss Nellie Holderness at her home in Eakring near Newark in 1911 and featured a picture of Old School House and Rock Cottages in Shirebrook. The handwritten and signed postcard is now set to be sold at Hansons Auctioneers' Library Auction on July 31 and is expected to fetch £200-£250 ... more Add a comment
---
23.07.19.
Goodbye, Alan Moore: the king of comics bows out
One of the most significant fiction writers in English is retiring, to the greatest fanfare of his singular and titanically influential career. Alan Moore has promised that the (extremely late) final issue of The League of Extraordinary Gentlemen will be his last comic, and his final contribution to an art form he utterly transformed ... more Add a comment
---
20.07.19.
Christie's Apollo 11 star lot fails to launch
Christie's "One Giant Leap" sale commemorating the 50th anniversary of the lunar landing in 1969 opened with a bang on Thursday morning but ultimately landed with a thud as the star lot failed to find a bidder. The auction netted a total of $907,000, falling way short of expectations ... more Add a comment
Dickens museum buys lost portrait 133 years after it went missing
The Charles Dickens Museum at 48 Doughty Street in London said the target of raising £180,000 had been reached to buy the painting by Margaret Gillies of the writer when he was 31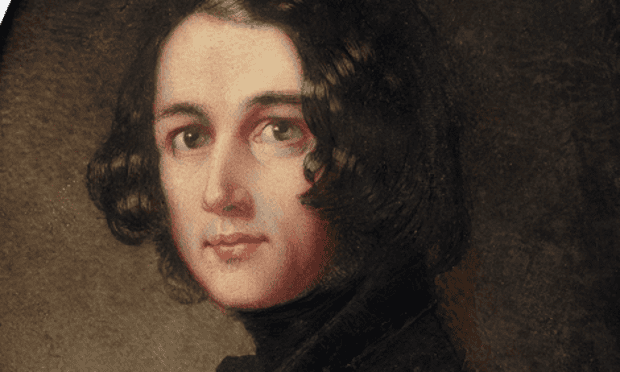 ... more Add a comment
---
19.07.19.
Obituary: Donald MacCormick, bookseller specialising in Gaelic literature
Donald MacCormick the distinguished antiquarian bookseller, who has died aged 80, was a recognised authority on the literature, traditions and folklore of Gaeldom and as its pre-eminent bookseller and collector ... more Add a comment
'Book ripper' on vandalism spree in seaside town
Hundreds of volumes in the library and bookshops of Herne Bay have had pages torn in half, but police remain baffled ... more Add a comment
My Books - Ian Patterson
I've always needed to have books around me, quantities of them, ever since I can remember. There may be something pathological about it. When I was a boy, the eldest child of literate but not bibliophile parents, in a big enough house in suburban Cheshire, most of my pocket money went on books - Billy Bunter, Jennings, William, War Picture Library, Biggles, Arthur Ransome, bird books ... more Add a comment
Message-in-a-bottle author found after 50 years
The author of a message in a bottle has been located some 50 years after he threw it into the Indian Ocean. Paul Gilmore, then 13, dropped the bottle into the ocean while sailing with his family on a liner from the UK to Melbourne ... more Add a comment
---
12.07.19.
Apollo 11 flight manual expected to sell for millions
A flight manual from the Apollo 11 lunar module could fetch up to $9 million when it goes on sale next week as part of an auction marking the moon landing's 50th anniversary ... more Add a comment
Book bought for £5 may fetch £20,000 at auction
A book bought for a fiver two decades ago is expected to fetch as much as £20,000 at auction. Sarah Hickman, from Faversham, purchased the original 17th century volume at a bookshop and says she had no idea just how valuable the item was
... more Add a comment
From bibliomania to kleptomania
Book-collecting can become a dangerous obsession, judging by the number of thieving scholars exposed by Stuart Kells ... more Add a comment
---
2.07.19.
15 arrests in theft of Galileo and Newton original books
In a joint action day, the Romanian, UK and Italian authorities arrested 15 suspects involved in the theft of 260 priceless antique books with an estimated value of more than Euro 2 million. The books, which included original editions of Galileo Galilei and Isaac Newton, were stolen by a highly sophisticated international organised crime group (OCG), known to the authorities for committing a large number of burglaries throughout Europe ... more Add a comment
Talking Maps
Drawn from the Bodleian's vast collections, this exhibition features maps from ancient, premodern and contemporary cultures across the globe, as well as fictional maps by figures such as C.S. Lewis and J.R.R. Tolkien, to explore what maps can tell us both about the places they depict and the people who made them
... more Add a comment
Ulsysses first edition sells for Euro 85,000
A first-edition signed copy of Ulysses fetched Euro 85,000 under the hammer at a Fonsie Mealy sale of rare, antiquarian and modern books on June 18th. The estimate had been Euro 70,00-90,000. The book was No 30 from the first print run of the book by publisher Sylvia Beach, through her Paris-based Shakespeare and Co, in 1922 ... more Add a comment
The Lost Gutenberg
Despite all predictions to the contrary, our love affair with books continues unabated. Some, though, have taken that obsession to extremes. One of these was Estelle Doheny. She started her career as a humble telephonist, but following her marriage in 1900 to multi-millionaire American oilman Ned Doheny (who liked the sound of her voice at the other end of the line and wanted to meet her), Doheny became one of the wealthiest women in the world ... more Add a comment
From bibliomania to kleptomania
Book-collecting can become a dangerous obsession, judging by the number of thieving scholars exposed by Stuart Kells ... more Add a comment
Historic Scottish book to be auctioned amid fears it will be lost to the nation
It is 'incredibly exciting', of 'national importance' and up for auction - but who will buy the 500-year-old text used by the man appointed by royalty to create the first non-fiction book in Scots? ... more Add a comment
There are three rules for writing a novel. Unfortunately, no one knows what they are.
W. SOMERSET MAUGHAM