Shelf:Life
Shelf:Life - Links to what's new in the world of old, rare, and collectable books, insights into book collecting, the news stories that matter, and occasional comments by TheBookGuide. Archived Stories.
23.08.19.
Britain's largest antiquarian book fair returns to York this September
York's annual showcase of books, maps, ephemera and prints from sellers across the UK and beyond, will be taking place on Friday 13th and Saturday 14th September at the Knavesmire Suite, York Racecourse ... more Add a comment
Book review: Confessions Of A Bookseller, by Shaun Bythell
This sequel to The Diary Of A Bookseller reinforces Shaun Bythell's persona as the archetypally grumpy owner of Scotland's largest second-hand bookshop. He revels in being rude to customers, it seems. In fact, I think the customers are far more rude than he is. There is a horrid rhythm in the book of customers trying to haggle, sometimes down to pennies
... more Add a comment
Richard Booth obituary
On April Fools' Day 1977 Richard Booth, who has died aged 80, strode down the high street of Hay-on-Wye, Powys, dressed in a home-made crown and fake ermine robe. His intent - to declare the small market town an independent sovereign state - was as visionary as it was bonkers ... more Add a comment
---
20.08.19.
Richard Booth: Bookshop owner and 'king of Hay-on-Wye' dies
He was responsible for transforming the market town in Powys into the world's foremost home for books ... more Add a comment
---
16.08.19.
White professor investigated for quoting James Baldwin's use of N-word
The Pulitzer-nominated poet Laurie Sheck, a professor at the New School in New York City, is being investigated by the university for using the N-word during a discussion about James Baldwin's use of the racial slur ... more Add a comment
For Sale: a 1699 treatise on the best ways to make salad
Though John Evelyn cautioned that he was "not ambitious of being thought an excellent Cook," he had no reservations about authoring a volume on the art of the salad. In his 1699 Acetaria or A Discourse of Sallets (read: "salads"), Evelyn provides a most thorough guide to the joys of vegetarian living - complete with preparation instructions, a seasonal calendar for herbs and vegetables, and pithy, philosophical asides. A first edition of the book is now up for auction at Addison & Sarova, where it is expected to sell for at least $1,000
... more Add a comment
---
14.08.19.
'Stolen books were planted'
Three days after over 2,500 rare stolen books were recovered from the library of Mohammad Ali Jauhar University - which was founded SP leader Azam Khan - his wife called the raids a conspiracy to defame Khan ... more Add a comment
---
11.08.19.
A fresh crop of feminist bookshops is transforming London's literary landscape
It's a hectic Friday morning in north London, and as commuter trains rumble overhead, well-worn paperbacks quiver on a basement bookshelf at 5 Caledonian Road. "Here's some more," an overloaded shop assistant warns before dropping a crate at my feet, packed with "bargain" jewels - Vera Brittain's Testament of Friendship, Pablo Neruda's Memoirs, Jenny Diski's Skating to Antarctica. "It's neverending," he chuckles ... more Add a comment
These are some of the world's most expensive books
Can you think of any book that can be sold in millions of dollars? Yes, some people have spent such a huge amount just for a single book. So let's have a look at the most expensive books that have been sold all around the world ... more Add a comment
Franz Kafka archive reclaimed by Israel national library
Israel's national library has unveiled a missing batch of Franz Kafka's papers, ending more than a decade of legal wrangling between Israel and Germany over the author's legacy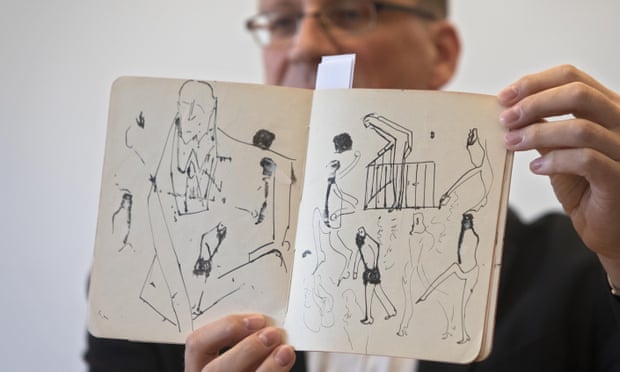 ... more Add a comment
---
6.08.19.
Inside Whitmore Rare Books
In my hands I held a copy of "Les Fleurs du Mal," by Charles Baudelaire, certainly one of the most famous books of French poetry. And it was not just a copy, it was a first edition, signed by Baudelaire himself, with an inscription thanking the recipient for his patience. I was afforded this treat because I was standing in Whitmore Rare Books in Pasadena, with Daniel Whitmore who was sharing some of the store's treasures with me ... more Add a comment
Bright Young Booksellers: Nicholas McBurney
Fine Books & Magazines, Bright Young Booksellers series continues today with Nicholas McBurney, proprietor of N. G. McBurney in London ... more Add a comment
---
2.08.19.
Mr Jenkins's Bardon 24-hour book shed
As members of the great cult of book worshipers, the idea of a 24-hour book shed sounds like a dream come true. The idea is simple: this tin shed is open all the time, unstaffed, and people can pay what they want into a box in the shop. You'll never be without a book. Leave the house on your way to work without a book to read? Book shed. Tipsy on beers and cocktails and feel a hankering for drunken book shopping? Book shed. Late night walks contemplating the meaning of life? There's the book shed for you ... more Add a comment
Harry Potter book bought for £1 sells for £28,500 at auction
The first edition of Harry Potter and the Philosopher's Stone, JK Rowling's debut novel, was bought by a private collector from the UK. The 1997 book, published with two errors, was sold by Staffordshire libraries for £1 about 20 years ago ... more Add a comment
Dazzled by Danish illustrator Kay Nielsen
If you want to be dazzled, look no further than the Museum of Fine Arts in Boston, which just opened Kay Nielsen's Enchanted Vision: The Kendra and Allan Daniel Collection
... more Add a comment
Lady Chatterley's legal case: how the book changed the meaning of obscene
It is credited as being a crucial step in liberalising the country's cultural landscape, encouraging frank public discussion of sexual behaviour that meant sex was no longer a taboo in art and entertainment. It also shifted views on major human rights issues including the legalisation of homosexuality and abortion, the abolition of the death penalty and divorce reform ... more Add a comment
Peter Harrington exhibits Pacific Voyage Collection
Rare bookseller Peter Harrington has recently acquired a large collection of books on voyages in the Pacific Ocean from legendary book dealer Louis (Lou) Weinstein, formerly of Heritage Book Shop, Beverly Hills, California ... more Add a comment
The pen is the tongue of the mind.
MIGUEL DE CERVANTES