Shelf:Life
Shelf:Life - Links to what's new in the world of old, rare, and collectable books, insights into book collecting, the news stories that matter, and occasional comments by TheBookGuide. Archived Stories.
27.10.19.
Urgent appeal: help us bring a little book home to Haworth!
The Brontë Society is currently raising funds to purchase a rare 'little book' by Charlotte Brontë which will be auctioned in Paris in mid-November. Please can you help us to bring it home to Haworth where it can inspire visitors and scholars for generations to come? Add a comment
Peep at Lichfield Cathedral map is out of this world
A world atlas from 1584 is one of the rare items on display at Lichfield Cathedral's library
... more Add a comment
Beautiful Books: Dickens and the Business of Christmas
The Charles Dickens Museum's new exhibition Beautiful Books: Dickens and the Business of Christmas charts the birth of the modern idea of Christmas against a backdrop of significant change in British Society ... more Add a comment
---
22.10.19.
Who's stealing Christopher Columbus letters?
Copies of a letter written by Christopher Columbus describing his first impressions of the Americas have become so rare and valuable, they're being stolen and replaced with forgeries at some of the world's most prestigious libraries ... more Add a comment
The Lost Gutenberg
The astounding story of one book's five-hundred-year odyssey, by Margaret Leslie Davis ... more Add a comment
Fake David Cameron memoir cover spotted in bookshop
Complete with endorsements from Donald Trump and Judy Murray, the parody jacket turned up in a branch of Foyles ... more Add a comment
£1,000 reward for lost 400-year-old manuscripts
Historians are offering £1,000 to anyone who can help them find a collection of Elizabethan manuscripts that vanished more than 250 years ago. It is believed the 75-plus documents that were handwritten about 400 years ago could still be somewhere in Lincolnshire ... more Add a comment
---
21.10.19.
Loved to Death
A Photographer's Tribute to Discarded Library Books
... more Add a comment
Historical letters from Florence Nightingale and Captain Scott on display
Lost letters shedding light on the fierce rivalry that powered the epic journeys of Antarctic explorers Robert Scott and Ernest Shackleton were unearthed in a bookshop move ... more Add a comment
'The perfect combination of art and science'
Digital maps might be more practical in the 21st century, but the long tradition of cartography is magical ... more Add a comment
---
15.10.19.
Library conservation: the art of saving antiquarian books
Anyone who has picked up a foxed or stained or bent, damp, flaky, dusty, faded or simply tatty book will appreciate that a library in fine order represents a battle won ... more Add a comment
New York Film Review: 'The Booksellers'
It's never a surprise to learn that the Internet has upended a business, or an entire industry. But in the lovely and wistful documentary "The Booksellers," we hear one telling illustration of how the online universe has revolutionized the world of vintage books, and it's an object lesson so fraught with irony that it's a little head-spinning
... more Add a comment
Bookshops are here to stay, they're machines for serendipity
As long as they open up a world of possibility and wonder, bookshops will continue to offer more potential enjoyment per square foot than any other destination on the high street ... more Add a comment
Welcome inside Britain's first 'free bookshop'
The idea of a shop where customers decide how much to pay might not sound like the usual recipe for success. Then again, Book-Cycle in Exeter is not your ordinary shop ... more Add a comment
---
7.10.19.
A rare edition of the first Harry Potter book is expected to fetch up to £30,000
The 1997 Harry Potter And The Philosopher's Stone hardback edition was gifted to a Lancashire family who locked it in a briefcase for safekeeping and planned to keep it as a family heirloom. After hearing about another first edition of the first book in JK Rowling's boy wizard series selling for £28,500 in July, the family, who wish to remain anonymous, decided to sell it ... more Add a comment
NSPCC book fair opens its latest chapter
An annual book fair is hoping to break a £500,000 fundraising target as it marks a milestone anniversary ... more Add a comment
James Bond posters up for auction
Hundreds of James Bond posters are going under the hammer. The Prop Store has announced the sale of more than 460 rare 007 posters and memorabilia. Prices will range from £50 to £25,000
... more Add a comment
Rare James Bond collection to go under the hammer in Edinburgh
The titles will go under the hammer at Lyon & Turnbull in Edinburgh on October 9, which includes a first edition copy of Flemings first novel, Casino Royale ... more Add a comment
---
4.10.19.
Henry III manuscripts go on display at Westminster Abbey Galleries
Two precious 13th century manuscripts from the Abbey Collection go on display in the Abbey's Galleries today as part of celebrations to mark the 750th anniversary of Henry III's rebuilding of Edward the Confessor's church ... more Add a comment
Collecting paperbacks from hell
Giant carnivorous cockroaches, demonic children, haunted houses, possessed dolls, killer clowns, Nazi leprechauns, and crabs on the rampage: all these and more lurk beneath the garish covers of a publishing category that flourished from approximately 1967 to 1991, bookended by the runaway bestseller Rosemary's Baby and the successful film adaptation of Thomas Harris's Silence of the Lambs ... more Add a comment
Obscenity judge's copy of Lady Chatterley's Lover to stay in UK
The copy of Lady Chatterley's Lover used by the judge in the landmark 1960 obscenity trial is to remain in the UK, after the University of Bristol stepped forward to augment the money raised by a crowdfunding campaign backed by writers including Neil Gaiman and Stephen Fry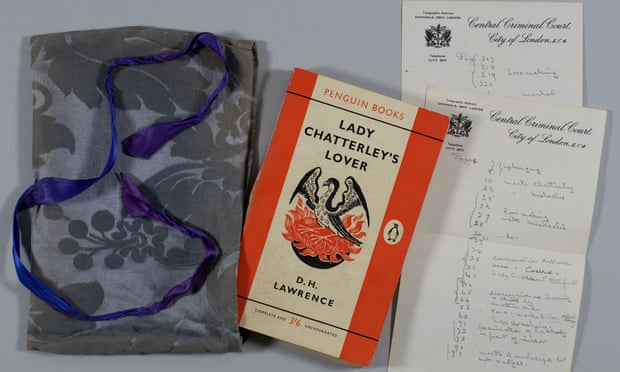 ... more Add a comment
Only Book of Mormon carried to the moon up for auction
The scriptural text for The Church of Jesus Christ of Latter-day Saints was carried to the moon by Commander John Young in 1972 ... more Add a comment
You don't have to burn books to destroy a culture Just get people to stop reading them.
RAY BRADBURY