Shelf:Life
Shelf:Life - Links to what's new in the world of old, rare, and collectable books, insights into book collecting, the news stories that matter, and occasional comments by TheBookGuide. Archived Stories.
21.11.19.
Shakespeare and Co: The world's most famous bookshop at 100
As the legendary store celebrates its centenary, Cath Pound pays tribute to founder Sylvia Beach, and explores a sanctuary for progressive writers and hub for innovative publishing ... more Add a comment
Early Mozart manuscript sold for £318,400 at Paris auction
The two minuets - French dances - date from 1772, when the composer was just 16. The asking price was set at between £129-172,000, but the score went under the hammer for nearly double the highest estimated value ... more Add a comment
Brontë Society secures last of Charlotte's minute teenage books
Charity raises £512,000 to buy tiny handwritten work and bring it back for public display in the Parsonage Museum in Yorkshire ... more Add a comment
World's first printed Christmas card goes on display
The world's first printed Christmas card, an artwork created in 1843 that went on to spawn a global industry, has gone on show at the Charles Dickens Museum in London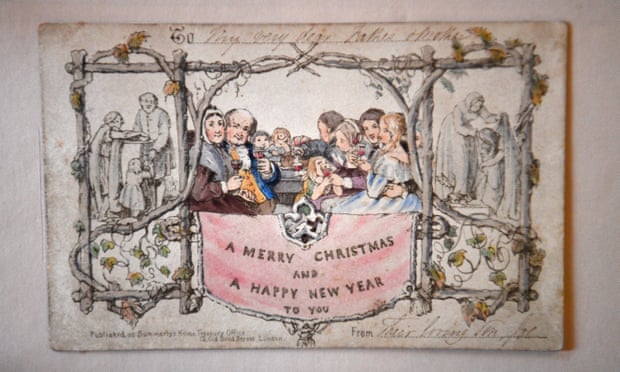 ... more Add a comment
---
15.11.19.
Baudelaire's unknown extra verse to erotic poem revealed
More than 150 years ago, Charles Baudelaire scrawled an extra verse of his erotic poem The Jewels into a copy of his landmark collection Les Fleurs du Mal. The stanza has never been made public, with the book's previous owner wanting to keep it private, but ahead of its auction next week, the lines have been revealed to the world ... more Add a comment
Judi Dench appeals for help to return rare Charlotte Brontë manuscript to Britain
A miniature book by the teenage Charlotte Brontë could fetch at least £650,000 in Paris next week, and Haworth's Parsonage museum hopes to buy it with crowdfunding
... more Add a comment
New manuscript discovered of The Tale of Genji, the 11th century Japanese novel
Last month the Japanese cultural preservation foundation, Reizeike Shiguretei Bunko, announced it had discovered the oldest written copy of a chapter of The Tale of Genji, an extended prose work written during the Heian Period (794-1185) and attributed to noblewoman and lady-in-waiting Murasaki Shikibu, also known as Lady Murasaki. She is believed to have written the book sometime between 1000 and 1012 ... more Add a comment
---
11.11.19.
Podcast by Slightly Foxed Magazine
The editors of the UK literary magazine Slightly Foxed recently spoke to Chris Saunders of Sotheran's London, the world's oldest antiquarian bookshop ... more Add a comment
Original art for Ditko's Spider-Man, Kirby's Mighty Thor up for auction
Profiles in History has officially announced Comic & Illustration Art: The Property of a Distinguished American Collector -- an auction featuring high-value pieces of original comic book artwork from some of the industry's most influential or otherwise esteemed creators. The auction will take place Thursday, Dec. 12 in Los Angeles ... more Add a comment
Marilyn Monroe's address book for sale
Famous friends of the actress in the blue leather book include crooner Frank Sinatra and Of Mice And Men author John Steinbeck
... more Add a comment
Pristine copy of Marvel Comics #1 expected to auction for $1 million+
The issue is a part of a collection compiled by a Pennsylvania mailman who purchased the first issue of every comic book and magazine he could get his hands on. This particular issue clocks in with a near-mint condition and a CGC grade of 9.4. Other than some off-white pages, the relic is nearly pristine even by modern standards. It's not a surprise that it's the highest-graded copy of one of the rarest and desirable comics produced by Marvel in all of the publisher's storied history. Only two other copies have surfaced that earned a score of 9.0 ... more Add a comment
Early Mozart manuscript to go on sale in Paris
An original score of two minuets composed by Wolfgang Amadeus Mozart when he was just 16 are to be put up for auction in Paris later this month, Sotheby's said on Thursday (Nov 7). The asking price for the handwritten score dating from 1772 has been set at 150,000-200,000 Euros ... more Add a comment
Denmark, Iceland at odds over priceless medieval manuscripts
They recount tales of Viking raids, Norse history, kings and gods: a priceless collection of medieval manuscripts, bequeathed by an Icelandic scholar to the University of Copenhagen in the 18th century, that Iceland now wants back
... more Add a comment
---
7.11.19.
Aspiring female Indiana Jones takes the 2019 ABA Book Collecting Prize
The ABA (Antiquarian Booksellers Association) are delighted to announce that the winner of the 2019 ABA National Book Collecting Prize goes to Oxford University student Manon Schutz, for her collection 'My friends, the early Egyptologists' ... more Add a comment
The man who collected 18,000 books about Wales
The life of a maverick Welsh collector who built the first major library of books about Wales is being celebrated 200 years after his birth ... more Add a comment
Scholars criticise sale of pages from 15th-century Persian manuscript
Scholars have expressed concern over the proposed sale by Christie's London on 24 October of two illuminated pages, taken from The Paths of Paradise, a 15th-century manuscript made for the Timurid ruler Sultan-Abu Sa'id Gurkan. A third folio was presented earlier this month at Frieze Masters by dealer Francesca Galloway ... more Add a comment
Kenneth Williams letter calling Alan Ayckbourn's work 'rubbish' goes to auction
Unpublished letters in which Kenneth Williams calls Alan Ayckbourn's plays 'rubbish' will go up for auction later this month. The collection features eight handwritten and nine typed letters and will be auctioned alongside a first edition of Williams' autobiography ... more Add a comment
5 things to know about collecting photo books
A single photograph may tell a story, but photography books have long been cherished for their full narrative potential. The cover design, image sequencing, accompanying text, and the pages themselves all play vital supporting roles ... more Add a comment
'Unbelievably moving' Anne Frank exhibition opens at Islington library
The collection is presented by anti-prejudice charity Anne Frank Trust and the pictures were recovered from the secret annex in Amsterdam where the diarist's family hid from Nazi persecution for more than two years during the Second World War
... more Add a comment
Inside J.R.R. Tolkien's former Oxford home
Take an inside look a 'The Lord of the Rings' author J.R.R. Tolkien's $6 million former home for sale in Oxford, England, where he wrote 'The Hobbit' and parts of 'The Lord of the Rings' trilogy ... more Add a comment
A post-Gutenberg Bible is headed to auction
Rolling off the same printing press as Johannes Gutenberg's celebrated production of 1455, this 1462 two-volume Biblia Latina, published in Mainz by Gutenberg's direct successors (and former associates), Johannes Fust and Peter Schëffer, is headed to auction in Hamburg later this month, where it is expected to reach 1 million Euros or about 1.1 million American dollars ... more Add a comment
---
3.11.19.
Bible written in shorthand found in West Sussex bookshop
A copy of the Bible written entirely in shorthand has sparked curiosity after it was found in a West Sussex bookshop. The King James Bible written in Pitman shorthand was picked up in Kim's Bookshop in Arundel by Graeme Patfield, a former journalist and now director at PR company in Fareham, Polymedia ... more Add a comment
500 years after the expulsion of Spain's Jews, medieval Bible comes home
Priceless volume that survived centuries after the exile of its persecuted owners finally returns to Galicia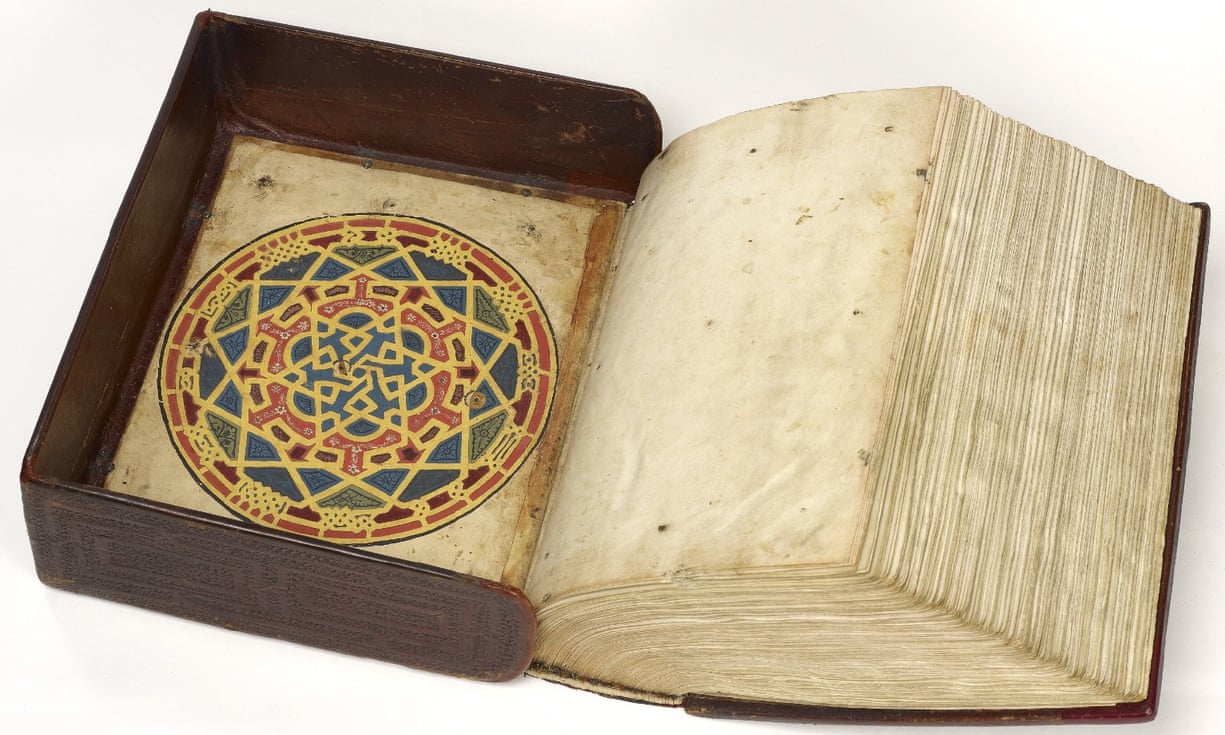 ... more Add a comment
Why the books we read as children are the ones that shape our psyche
As the TV adaptation of Philip Pullman's epic fantasy His Dark Materials reaches our screens, one writer tells how the trilogy changed her life ... more Add a comment
Manuscript of Coubertin's vision for modern Olympics to be auctioned
Pierre de Coubertin's enlightened vision for the modern Olympic Games will be going under the hammer at Sotheby's in New York in December, Agence-France Presse has reported ... more Add a comment
I would venture to guess that Anon, who wrote so many poems without signing them, was often a woman.
VIRGINIA WOOLF